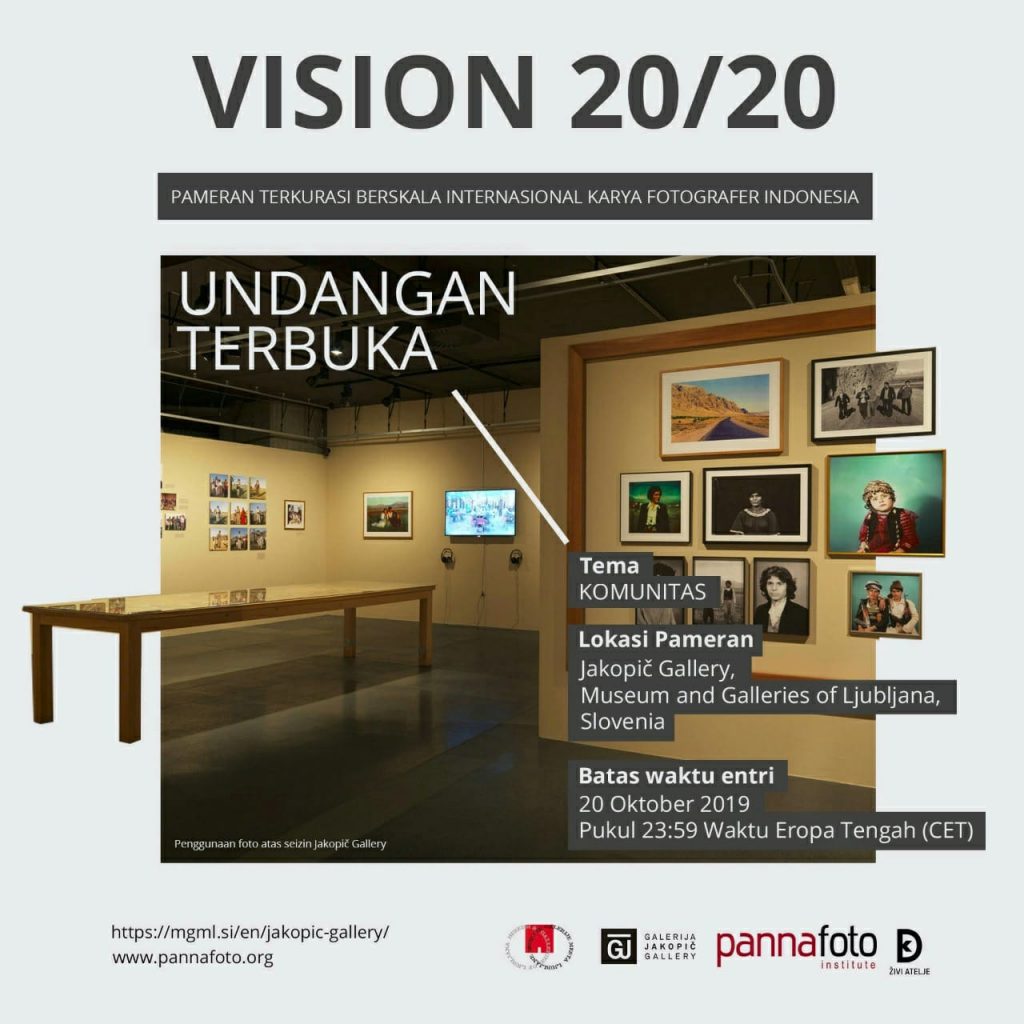 UNDANGAN TERBUKA PROPOSAL PROYEK FOTOGRAFI
"VISION 20/20", PAMERAN TERKURASI BERSKALA INTERNASIONAL karya fotografer Indonesia
Batas waktu entri: 20 Oktober 2019, pukul 23:59 Waktu Eropa Tengah (CET)
Lokasi pameran: Jakopič Gallery, Museum and Galleries of Ljubljana, Slovenia
Biaya pendaftaran: tidak dikenakan biaya
Tema: "KOMUNITAS"
Jakopič Gallery (Ljubljana, Slovenia), PannaFoto Institute (Jakarta, Indonesia), dan Living Atelier DK (Zagreb, Kroasia) mengundang fotografer Indonesia untuk mengajukan proyek fotografi yang telah selesai untuk mengikuti proses seleksi pameran foto yang akan diadakan di Slovenia, Eropa, pada tahun 2020. Seleksi ini juga terbuka bagi seniman dengan mengirimkan karyanya baik dalam medium fotografi atau video dan/atau karya berbasis media campuran, selama karya tersebut mengadopsi pendekatan fotografi. Secara tematik, proyek fotografi yang diajukan harus berkaitan dengan "komunitas". Anda tidak harus menjawab langsung pertanyaan-pertanyaan berikut, tetapi beberapa pertanyaan ini setidaknya dapat membantu proses berpikir Anda:
Bagaimana seorang fotografer Indonesia mengeksplorasi, terlibat dan berpikir mengenai gagasan tentang komunitas? Apakah komunitas menjadi sesuatu yang diinginkan, yang tak terhindarkan, ataukah sesuatu yang membahayakan? Jika kita membentuk sebuah gagasan akan apa itu komunitas, dan kita berdamai dengan gagasan tersebut baik secara sadar maupun secara spiritual, lalu apa yang kita lakukan dengan komunitas? Bagaimana komunitas mempengaruhi tindakan-tindakan kita?
Kami mencari proyek fotografi, kisah dan interpretasi visual yang menggali isu-isu seperti tersebut di atas untuk pameran fotografi modern Indonesia di Slovenia, Eropa.
Pemilihan proyek fotografi dan kurasi pameran akan dilakukan oleh Marija Skočir, kurator dan kepala galeri Jakopič Gallery di Ljubljana, Ng Swan Ti dari PannaFoto Institute di Jakarta dan Sasa Kralj dari Living Atelier DK di Zagreb.
Pameran ini merupakan upaya untuk menghadirkan lintas-ruang terhadap fotografi Indonesia baru-baru ini bagi audiens Slovenia maupun audiens Eropa yang lebih luas.
Fotografer dan seniman yang mengirimkan karyanya untuk mengikuti Undangan Terbuka berkesempatan untuk:
Karyanya diikutsertakan dalam pameran di Jakopič Gallery pada tahun 2020, serta tercantum dalam katalog pameran yang akan diterbitkan pada saat pembukaan pameran
1 (satu) orang akan diundang sebagai perwakilan fotografer/seniman Indonesia untuk menghadiri pembukaan pameran pada bulan Februari 2020
Pendaftaran, syarat dan ketentuan, dan informasi selengkapnya tersedia di sini.
---
CALL FOR PHOTOGRAPHIC PROJECTS
"VISION 20/20", an INTERNATIONALLY CURATED EXHIBITION of Indonesian photography
Deadline for entries: 11:59 pm on 20 October 2019 (Central European Time)
Exhibition venue: Jakopič Gallery, Museum and Galleries of Ljubljana, Slovenia
Submission fee: none
Theme: "COMMUNITY"
The Jakopič Gallery (Ljubljana, Slovenia), the PannaFoto Institute (Jakarta, Indonesia) and Living Atelier DK (Zagreb, Croatia) are pleased to invite Indonesian photographers to propose completed photographic projects for possible selection for an exhibition to be held in Slovenia, Europe, in 2020. Artists are welcome to submit works either in a photographic medium or as video and/or mixed media, provided that a photographic approach has been adopted. Thematically, the projects should deal with the subject of community. You do not have to address any of the following questions directly, but they may assist your thought process:
How does an Indonesian photographer explore, engage with and think about the idea of community? Is it something desirable, inevitable, or dangerous? If we form an idea of what community is, and we consciously or spiritually make peace with that idea, what do we do with it then? How does it affect our actions? Do we change a community, or have some other kind of impact on it, by contemplating and internalising the very idea of it and, if so, how?
We are looking for projects, stories and visual interpretations exploring issues like these for an exhibition of modern Indonesian photography in Slovenia, Europe.
Project selection and exhibition curation will be carried out by Marija Skočir, curator and head of the Jakopič Gallery in Ljubljana, Ng Swan Ti from the PannaFoto Institute in Jakarta, and Saša Kralj from Living Atelier DK in Zagreb.
The exhibition will seek to present a cross-section of recent Indonesian photography to a Slovenian and wider European audience.
Photographers and artists submitting works in response to this Open Call may be represented at the exhibition in the following ways:
inclusion in the exhibition at the Jakopič Gallery in 2020, as well as in the exhibition catalogue to be published on the day of the opening
as a visiting artist at the exhibition opening, in February 2020 (one person)
Registratioin, term and condition, and further information available here or …