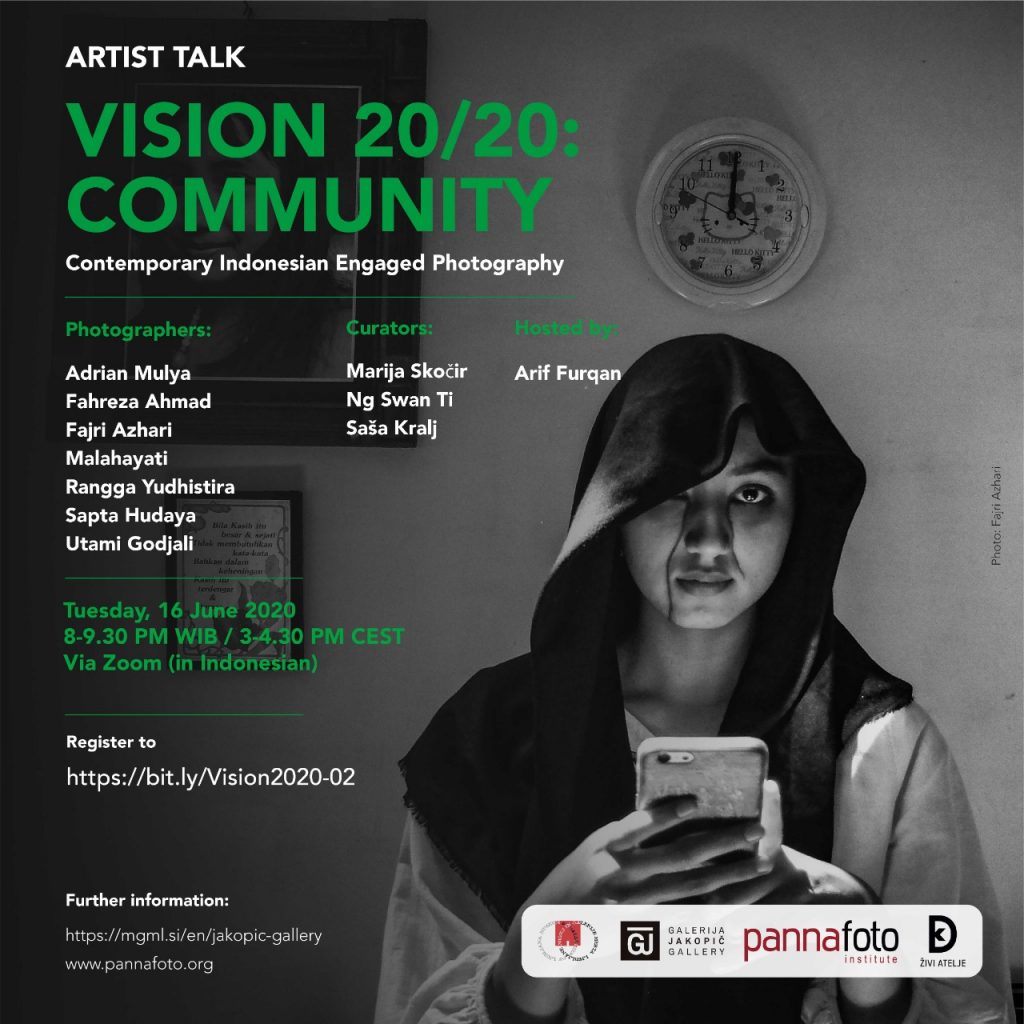 ARTIST TALK
VISION 20/20: COMMUNITY
Contemporary Indonesian Engaged Photography
This session will discuss the exhibition as a platform to spark a dialog between Indonesian photographers and Slovenian as well as wider European audience. It will discuss curatorial process and how an Indonesian photographer explores, engages with and thinks about the idea of community.
Tuesday, 16 June 2020
8-9.30 PM WIB/3-4.30 PM CEST
via Zoom (in Indonesian)
Photographers
Adrian Mulya
Fahreza Ahmad
Fajri Azhari
Malahayati
Rangga Yudhistira
Sapta Hudaya
Utami Godjali
Curatorial team
Marija Skočir (The Jakopič Gallery)
Ng Swan Ti (PannaFoto Institute)
Saša Kralj (Living Atelier DK)
Hosted by
Arif Furqan
This artist talk will be conducted on Zoom in Indonesian, free of charge with limited participants.
Register to
bit.ly/Vision2020-02
Further information:
https://mgml.si/en/jakopic-gallery
www.pannafoto.org
---
Adrian Mulya
(1974) is an independent photographer, who specializes in documentary photography and photojournalism. His interest in documentary photography grew through his friendship with senior photographers in Indonesia and his photographic education at the PannaFoto Institute and Galeri Foto Jurnalistik Antara. In 2016 the Kepustakaan Populer Gramedia published his photobook "Pemenang Kehidupan" (Winners of Life), a series of portraits featuring the Indonesian women who had been accused of being communist activists and survived the reprisals of the 1965s. He is currently working on several projects with local and international NGOs, as well as various personal projects, for example "Keroncong Irama Jakarta", a story about Betawi music and the Chinese issue in Indonesia.
Fahreza Ahmad
(1981) is a documentary photographer based in Banda Aceh. Reza covered the issue of the Fishermen for Beritagar.id and Ekuatorial, two digital media outlets from Indonesia that frequently publish photo-essays on topical issues. In 2018, Reza was awarded the National Photojournalism Award by the Indonesia National Press Photographers organization (PFI) for 2nd place in the Environment category.
Fajri Azhari
(2001) comes from Bukittinggi, West Sumatra. He started to develop an interest in photography in high school, inspired by his older brother. Immersing himself in the world of photography, he participated and was awarded in several competitions, including CONCURRENTIE KONING, PHOTOGRAPHY PASSION 2, Highlandtion, Bukittinggi Photography Competition, and Sore Rabu Project. He is currently studying at the Indonesian Institute of the Arts in Yogyakarta, with a major in Photography, and wishes to become a professional photographer in the future.
Arif Furqan
is a freelance photographer and writer. Currently doing project on Unhistoried, Indonesian family photograph and archive. Co-founder of Walkingalam community. Also a part of Flock Project, a collective exploring the possibilities of photographic works through printed matters. Now temporarily resides and works in Chiang Rai, Thailand as lecturer.
Malahayati
(1980) graduated from the Faculty of Humaniora at Universitas Indonesia in 2003. She studied photography at the Antara Gallery of Photojournalism in 2001 and was selected for the Photojournalism workshop, hosted by World Press Photo in 2004. She has done editorial work and commercial projects for various companies. She was published in several media outlets such as Tempo, National Geographic Indonesa, Asian Geo, and has exhibited her work at Erasmus Huis, TIM Cipta Gallery and Jakarta Biennale. She held a solo exhibition at Instituto Italiano di Cultura Jakarta in 2008. In 2016, after a six-year hiatus, she started to actively pursue her passion in documentary photography and set up her business in wedding, corporate and product photography. She also enjoys sharing her photography know-how with families.
Marija Skočir
, born 1980, MA in Art History and Comparative Literature and Literary Theory is a senior curator and art gallery director of the Jakopič and Match galleries within the Museum and Galleries of Ljubljana, Slovenia. She is currently completing her PhD on history of Central European photography at the University of Ljubljana. She has curated or co-curated more than 30 photographic and other visual arts exhibitions (many of those retrospective and by world-renowned photographers, including Josef Koudelka, Roger Ballen, Lee Miller, Sebastião Salgado, Marc Riboud and several established Slovenian photographers) and managed more than 70 exhibition projects. Her most recent project that she co-curated is the exhibition of Indonesian contemporary engaged photography Vision 20/20: Community. Besides curatorial work, she keeps developing innovative educational approaches in the field of photography as accompanying programmes to the exhibitions in Jakopič Gallery as well as building up communities, which focus on sharing of photographic and storytelling skills, awareness and knowledge.
Ng Swan Ti
lives and works in Jakarta, where she divides her time between personal projects and photography education at PannaFoto Institute. She pursues her career in photography upon participating in a workshop held by World Press Photo Foundation and "i see" (Imaging Center) in Jakarta in 2002, followed by a photography forum held by Asia-Europe Foundation and World Press Photo in Amsterdam in 2003. Her works on self-religious exploration have been exhibited in several exhibitions and festivals, including Noorderlicht Photo Festival (2006), Jakarta Biennale (2015), DongGang International Photo Festival (2016) and Photography in Southeast Asia (II) at Lumenvisum, Hongkong (2018). Her first photo book Illusion was launched in 2014.
Rangga Yudhistira
(1992) was born and grew up in Yogyakarta. He holds a degree in Visual Communication Design. He started to develop an interest in photography around 2010 when he graduated from high school. He learned more on the subject by himself and it became his hobby. In 2016, Rangga became more involved with photography and started working as a freelance photographer. Along with fellow artists he established a multi platform art collective called "Studio Batu". In 2017, he held a photographic exhibition with his colleague at Lir Space Yogyakarta. He enjoys learning about and exploring the world of photography.
Sapta Hudaya
(1987) is a freelance photographer based in Jakarta. He took photography classes at the Galeri Foto Jurnalistik Antara (GFJA) while studying Communication Visual Design at the Jakarta Art Institute. His introduction to photography led him to an exploration of observing diverse cultural traditions. Working mainly on black and white film and silver gelatin print, his latest personal project focuses on various spiritualistic practices in Indonesia. He also runs "Wash & Burn", a public photographic darkroom, in South Jakarta.
Saša Kralj
held an editorial training for World Press Photo in Jakarta at the start of the PannaFoto Institute and is still one of the guest mentors. He was teaching photojournalism in China's Shantou University and the American University of Iraq. Presently he is one of the mentors at photography workshop program "Up Close" of Jakopič gallery in Ljubljana, Slovenia, and is one of the founders and coordinators of the Living Atelier DK (Zivi Atelje) art cooperative in Zagreb, Croatia.
Utami Godjali
(1984), nicknamed "Memi", was born in Jakarta, where she completed her studies with a major in Public Relations. She has had a keen interest in photography from a young age and is currently working as a freelance photographer. She has been part of several group exhibitions in Indonesia and abroad. Her work is based on her personal experiences and other forms of diaries, play of the imagination, reality, and dreams, all of which seem to be vague and interconnected through her life. "White Box" is a safe place for her contemplation.