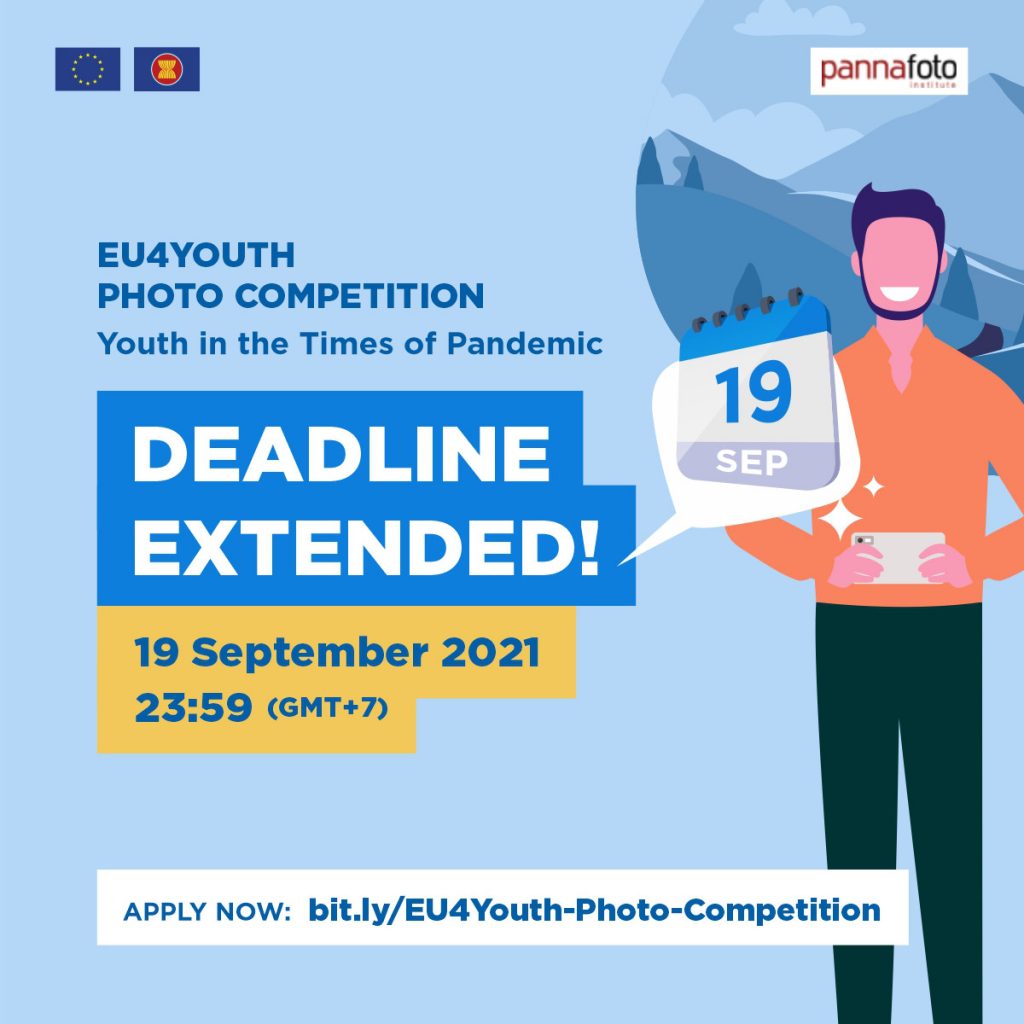 The Delegation of the European Union to ASEAN in partnership with PannaFoto Institute through Landell Mills is launching a photo competition entitled "EU4Youth Photo Competition".
The photo competition is organised as part of the celebration of the International Day of Youth and the EU-ASEAN 44th year of partnership. This year's photo competition will carry the theme, 'EU4Youth in the times of a pandemic'.
The photo competition is purposefully designed to only carry a general theme of youth in times of a pandemic, to provide youth with the freedom to capture the different ways the pandemic has disrupted their lives. The word 'for' is replaced by 4 (four) to symbolise the 44th year of EU-ASEAN relations in 2021.
ELIGIBILITY OF PARTICIPANTS
This Competition is open to ASEAN citizens and residents of any of the following ASEAN Member States: Brunei Darussalam, Cambodia, Indonesia, Lao PDR, Malaysia, Myanmar, The Philippines, Singapore, Thailand, Viet Nam.
All participants must be between 18 and 30 years old as of 8 August 2021.
Participants are allowed to submit a maximum of 10 (ten) photos in one photo story. Submission must also include an introduction text (mandatory) and captions for each photo (if applicable).
Only entries from individuals will be accepted. Collaboration/ group/ community entries are not eligible.
Participants who are shortlisted into the top 10 finalists must be committed to participate in the whole programme from August 2021 until 31 October 2021, which includes: 1) attending mentorship sessions; 2) submitting a final photo story; and 3) participating in the virtual photo exhibition at the end of the programme.
ELIGIBLE ENTRY
The photo(s) must reflect the theme of the Competition.
The photo(s) must be solely taken by the participant.
The photo(s) that have been submitted to other competitions or have been previously exhibited or sold are not acceptable. We reserve the right to request proof that an entry is the original property of the participant, and submitted solely by the participant for this Competition. Non-compliance to this rule will result in disqualification of the entry.
The photos cannot contain third-party copyright logos or material, and must not violate the rights of any person or entity; including copyright, privacy, or any other intellectual property rights. Upon submitting photo(s) to this Competition, the participant is solely responsible for any infringement of copyrighted materials.
The photo submissions must not contain inappropriate, offensive, discriminatory, sexual, or unlawful materials. Photo(s) deemed inappropriate will be disqualified.
SUBMISSION REQUIREMENTS
Photo entries must not have watermarks, timestamps, date stamps or borders.
Submitted photo(s) must be saved in a jpg/jpeg high-resolution format, 150-300 dpi and 7-12 compression quality, with a short edge of minimum 1920 pixels, and long edge of maximum 3200 pixels and the size of the files should be between 2MB and 4MB.
Photo(s) taken using a mobile phone are acceptable as long as the minimum image size requirement is met (at least 2 MB).
Submit your entries by filling the entry form at https://bit.ly/EU4YouthPhoto; or
Alternatively, you can send your submission via email to eu-asean@landell-mills.com, with "Submission for EU4Youth Photo Competition" as the subject of your email.
Entries must include:
Entries that do not adhere to the rules described above will be disqualified.
DEADLINE
Extended to Sunday, 19 September 2021 at 23:59 (GMT+7).
If there is any query, the participant can contact to eu-asean@landell-mills.com with copy info@pannafoto.org.