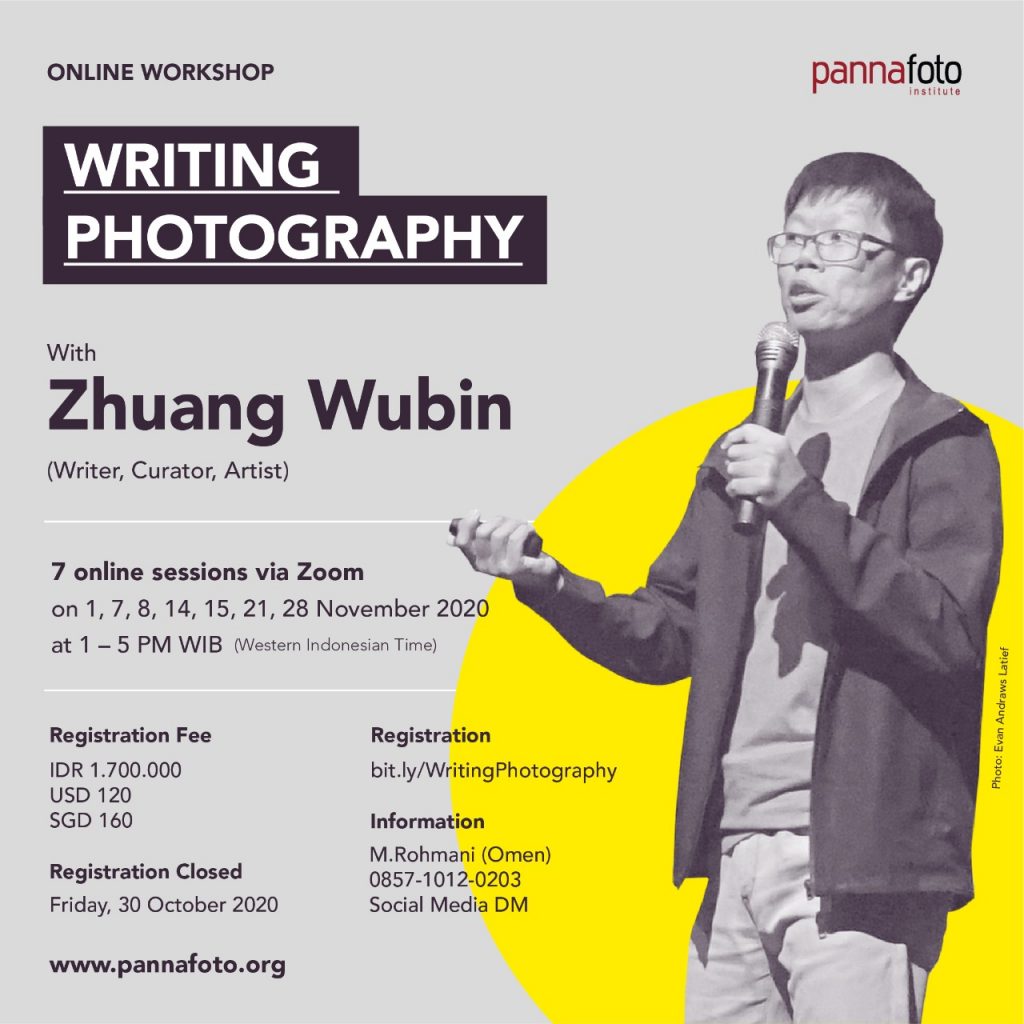 Online Workshop
WRITING PHOTOGRAPHY
With Zhuang Wubin (Writer, Curator, Artist)
7 online sessions via Zoom
on 1, 7, 8, 14, 15, 21, 28 November 2020
at 1 – 5 PM WIB (Western Indonesian Time)
Registration
bit.ly/WritingPhotography
(registration closed)
Registration Fee
IDR 1.700.000,-
(Installment Payment Method is available for Indonesian participants. Contact us for detail)
USD 120
SGD 160
Registration Closed
Friday, 30 October 2020
Participants
Maximum of 14 Participants
Contact
Muhammad Rohmani (Omen)
+62 (0) 857-1012-0203
info@pannafoto.org
www.pannafoto.org
Are you interested to write about photography? Are you a writer, curator, journalist or researcher who wants to write about different issues through photography? Are you an educator who teaches photography and its ideas? Are you a photographer or artist who wants to write about your personal work?
This online workshop is designed for those who are interested to write about photography. It is also designed for those who want to to learn about the ideas and concepts surrounding photography.
The workshop aims to:
Equip you with the basics of writing: reading critically, raising questions, conducting interviews, verifying sources.
Introduce different methods to the writing of photography, and how you can tailor your text for different audiences.
Provide a brief overview of theories surrounding photography. (Most of the case examples will come from Southeast Asia.)
The workshop takes the form of Zoom meetings, featuring lectures, virtual hands-on/discussion sessions and one assignment. Outside of the Zoom meetings, group interactions will be facilitated in a Facebook group.
The workshop is conducted in English, but is specially designed for participants whose first language is not English. Priority will be given to applicants from Indonesia and Southeast Asia. International applicants are also welcome. There is a strict cap in terms of class size.
---
How to register:
Fill in the form available at bit.ly/WritingPhotography (registration closed).
Made payment via Bank Transfer to YAYASAN PANNA, MANDIRI BANK account no. 166-000-24-000-91.
Upload your payment receipt in the column available on the registration form.
We will send you an email confirmation in 2×24 hours after we receive your payment and registration. Kindly check your spam/junk folder also.
For international participants, kindly be in contact with our team for another payment method, such as PayPal.
---
About the mentor
Zhuang Wubin is a writer, curator and artist.
As a writer/curator, Zhuang focuses on the photographic practices of Southeast Asia and Hong Kong.
Zhuang is an editorial board member of Trans-Asia Photography Review, recipient of the Prince Claus Fund research grant (2010) and a Lee Kong Chian research fellow at the National Library Board (NLB) of Singapore (Dec 2017 to Jun 2018). Zhuang is the major grantee of The Robert H. N. Ho Family Foundation Greater China Research Grant 2018. He has been invited to research residency programmes at Institute Technology of Bandung (2013), Asia Art Archive (AAA), Hong Kong (2015), Kuandu Museum of Fine Arts, Taiwan (2017) and the Ha Bik Chuen Archive Project at AAA (2018). He is the contributing curator of the Chiang Mai Photo Festival (2015, 2017, 2020).
Published by NUS Press, Photography in Southeast Asia: A Survey (2016) is his fourth book. As an artist, Zhuang uses photography and text to visualise the shifting experiences of Chineseness in Southeast Asia.
We add two more seats to this workshop. Contact us on WhatsApp 0852-1556-5835 or email info@pannafoto.org for more information.