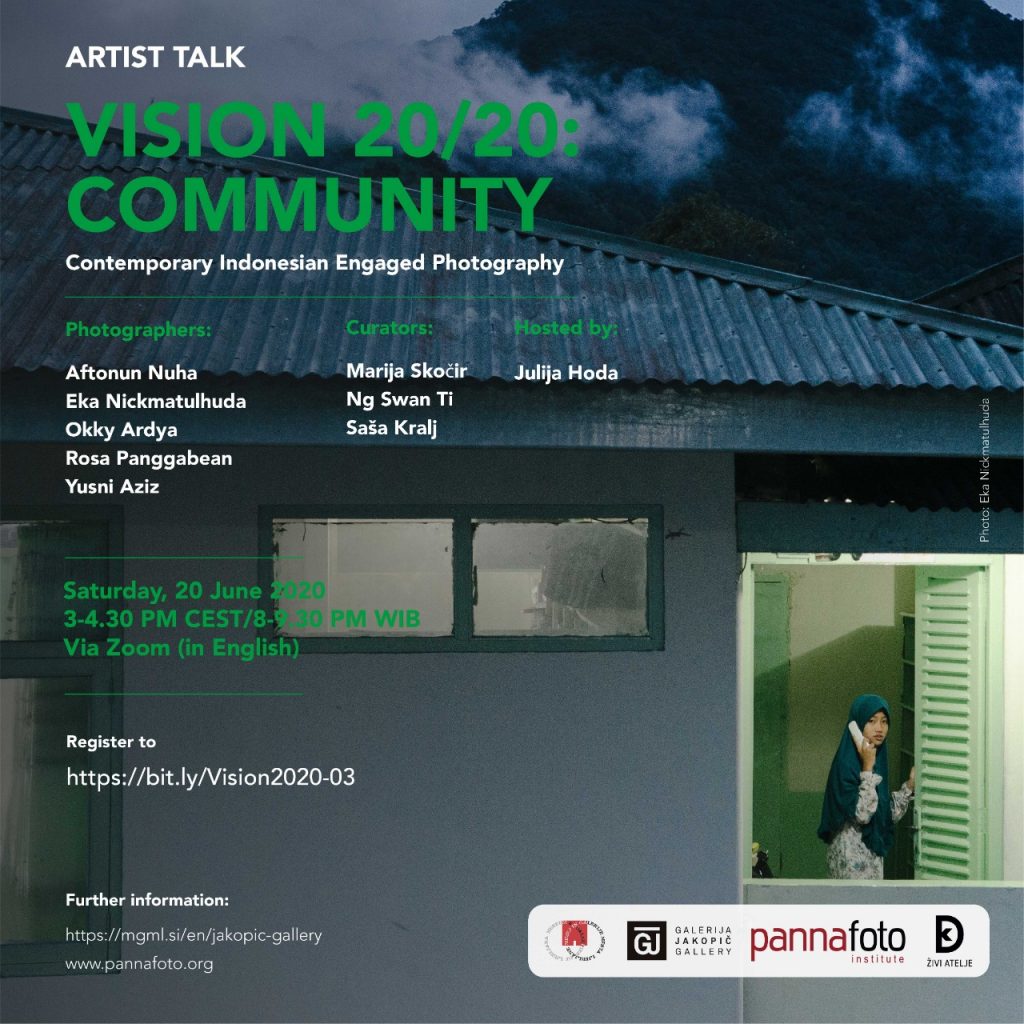 ARTIST TALK
VISION 20/20: COMMUNITY
Contemporary Indonesian Engaged Photography
This session will discuss the exhibition as a platform to spark a dialog between Indonesian photographers and Slovenian as well as wider European audience. It will discuss curatorial process and how an Indonesian photographer explores, engages with and thinks about the idea of community.
Saturday, 20 June 2020
8-9.30 PM WIB/3-4.30 PM CEST
via Zoom (in English)
Photographers
Aftonun Nuha
Eka Nickmatulhuda
Okky Ardya
Rosa Panggabean
Yusni Aziz
Curatorial team
Marija Skočir (Jakopič Gallery)
Ng Swan Ti (PannaFoto Institute)
Saša Kralj (Living Atelier DK)
Hosted by
Julija Hoda
This artist talk will be conducted on Zoom in English, free of charge with limited participants.
Register to
bit.ly/Vision2020-03
Further information:
https://mgml.si/en/jakopic-gallery
www.pannafoto.org
---
Aftonun Nuha
is a documentary photographer based in Surabaya. His work concentrates on topical social and environmental issues in Indonesia. When he is not working on editorial assignments for clients, he switches his focus to social phenomena and how they affect different communities, which has been his interest for many years. He is currently working on his long-term personal projects about Muslim communities and their "little meccas", damaged mangrove forests, and their impact on Indonesia respectively.
Eka Nickmatulhuda
(1981) is a Jakarta based photographer. She started her career as a photojournalist in the Tempo News Room, a part of Indonesia's biggest magazine, TEMPO. She decided to become a freelancer in 2009. Contributing to various media outlets in Indonesia and abroad, she dedicates most of her work to exploring the story of humanity, health and women.
Julija Hoda
(1987) is a curator at the Museum and Galleries of Ljubljana, Slovenia. Her curatorial work focuses on managing exhibitions, editing publications and coordinating events at the Jakopič Gallery, where she oversees workshops and other programmes for children designed to advance visual literacy and photography education. In her ongoing personal project she ties her photos with her grandmother's archive as a way to address questions on family and identity. She holds an MA in Classics and teaches Latin in primary education. She is currently developing new approaches to early language learning as part of a wider effort to promote and support plurilingualism in the classroom.
Marija Skočir
, born 1980, MA in Art History and Comparative Literature and Literary Theory is a senior curator and art gallery director of the Jakopič and Match galleries within the Museum and Galleries of Ljubljana, Slovenia. She is currently completing her PhD on history of Central European photography at the University of Ljubljana. She has curated or co-curated more than 30 photographic and other visual arts exhibitions (many of those retrospective and by world-renowned photographers, including Josef Koudelka, Roger Ballen, Lee Miller, Sebastião Salgado, Marc Riboud and several established Slovenian photographers) and managed more than 70 exhibition projects. Her most recent project that she co-curated is the exhibition of Indonesian contemporary engaged photography Vision 20/20: Community. Besides curatorial work, she keeps developing innovative educational approaches in the field of photography as accompanying programmes to the exhibitions in Jakopič Gallery as well as building up communities, which focus on sharing of photographic and storytelling skills, awareness and knowledge.
Ng Swan Ti
lives and works in Jakarta, where she divides her time between personal projects and photography education at PannaFoto Institute. She pursues her career in photography upon participating in a workshop held by World Press Photo Foundation and "i see" (Imaging Center) in Jakarta in 2002, followed by a photography forum held by Asia-Europe Foundation and World Press Photo in Amsterdam in 2003. Her works on self-religious exploration have been exhibited in several exhibitions and festivals, including Noorderlicht Photo Festival (2006), Jakarta Biennale (2015), DongGang International Photo Festival (2016) and Photography in Southeast Asia (II) at Lumenvisum, Hongkong (2018). Her first photo book Illusion was launched in 2014.
Okky Ardya
(1977) started her journalism career in 2003 as a reporter. She worked as a writer for online news, copywriter, TV screenwriter and editor of a graphic design magazine. In 2013 she received a fellowship to study at the Asian Center for Journalism at Ateneo de Manila University in the Philippines. In 2014 she participated in the 10th Edition of the Angkor Photo Workshops in Cambodia. In 2015, her work was exhibited at the Kathmandu Photo Festival, Nepal. Most recently she was selected for the Kenya and London based Global Innovation & Leadership project, organized by Deutsche Gesellschaft für Internationale Zusammenarbeit (GIZ) and Thomson Reuters Foundation. She loves to work on long-term documentary projects focusing on gender issues and human rights.
Rosa Panggabean
(1982) is a freelance photographer based in Jakarta. In the past she worked as a photojournalist for a national newspaper and national news agency, pursuing issues of social change, identity and human rights. Her interest in film, music, travel, fiction and literature, made her realize there are many ways to tell stories and there are many stories to tell. In photography, Rosa likes to explore the technical aspect of the medium and the various approaches to storytelling. She is active as a mentor in several workshops for students and the public. For the past three years, she has been the co-mentor in the Permata Photojournalist Program at the PannaFoto Institute. She has also published an independent photobook titled "Exile".
Saša Kralj
held an editorial training for World Press Photo in Jakarta at the start of the PannaFoto Institute and is still one of the guest mentors. He was teaching photojournalism in China's Shantou University and the American University of Iraq. Presently he is one of the mentors at photography workshop program "Up Close" of Jakopič gallery in Ljubljana, Slovenia, and is one of the founders and coordinators of the Living Atelier DK (Zivi Atelje) art cooperative in Zagreb, Croatia.
Yusni Aziz
(1987) is a photographer and writer based in Jakarta. He completed his postgraduate studies in architecture at Berlage Institute, The Netherlands. His works mainly focus on self, people, travel, urban and land-related issues. His works have been published by The Guardian, DestinAsian Indonesia, PHmuseum, Tempo, and many more. He has also exhibited at Photoville, USA and Wisdom Photo Exhibition at Erasmus Huis, Jakarta. He is the co-founder of "Heterogenic", an online photography platform for Indonesian storytellers.