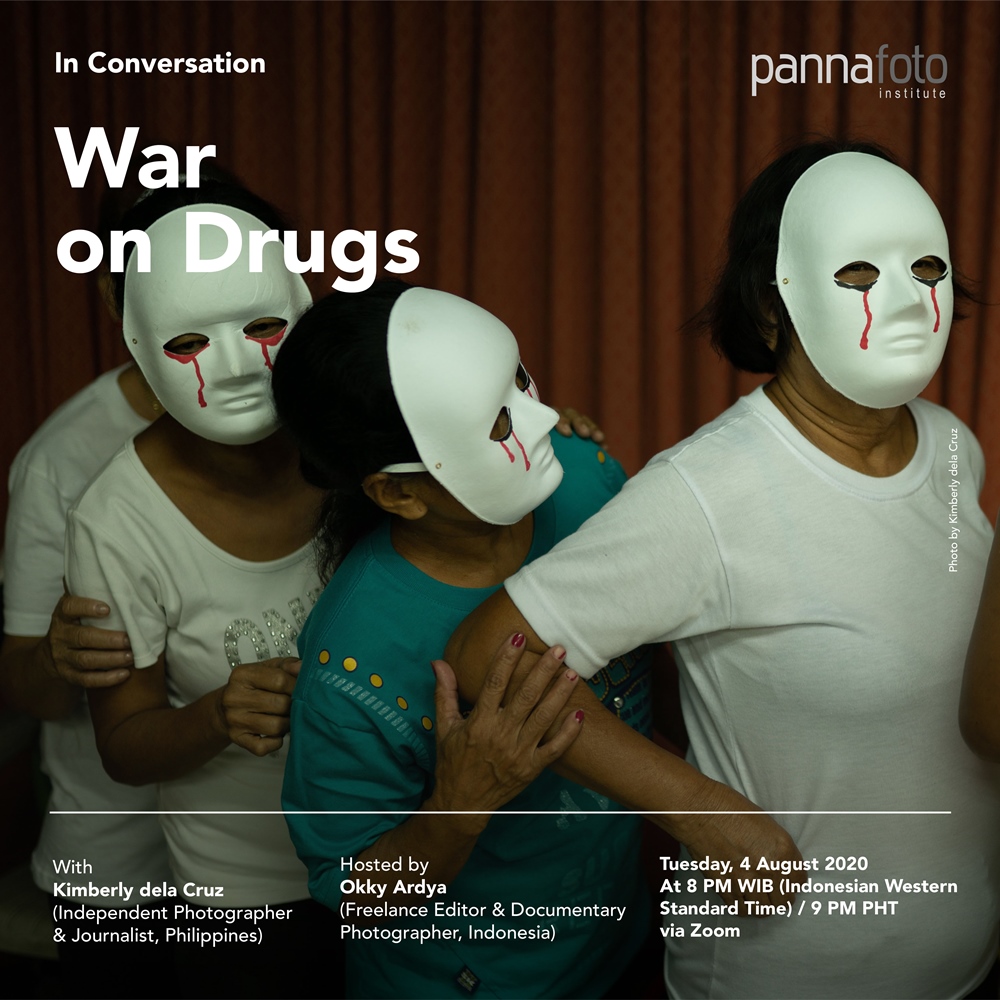 In Conversation
War on Drugs
with Kimberly dela Cruz (Independent Photographer & Journalist, Philippines)
Hosted by Okky Ardya (Freelance Editor & Documentary Photographer, Indonesia)
Tuesday, 4 August 2020
At 8 PM WIB (Indonesian Western Standard Time) / 9 PM PHT
via Zoom
Join Kimberly dela Cruz (
www.kimberlydelacruz.com
), a photojournalist based in the Philippines as she shares on how she works professionally and with integrity in documenting today's events and crisis, from the war on drugs to human rights issues in the time of President Rodrigo Duterte. As well as her takes on staying creative in the time of Covid-19 pandemic.
The interactive conversation will be conducted on Zoom, free of charge with limited participants.
Register to
bit.ly/PannaWebinar10
Further information:
info@pannafoto.org
www.pannafoto.org
---
Kimberly dela Cruz
is an independent photographer and journalist based in the Philippines. While studying Journalism, she started photographing student protests and later joined Philippine Daily Inquirer, a local broadsheet, as a photo correspondent. Dela Cruz left the paper in 2017 to pursue other projects and freelance for different publications. In 2018, she became a fellow for the International Women's Media Foundation and was sent to cover migration, LGBTQI and women's issues in El Salvador. She has been covering the war on drugs since July 2016 in the Philippines and co-produced "Si Kian", a children's book on the murder of Kian Delos Santos that won a National Children's Book Award. Her work has appeared in The Washington Post, The Guardian, Time, Al Jazeera, Buzzfeed News, The Irish Times, Nikkei Asian Review, Philippine Daily Inquirer and in exhibits across the globe. Instagram/Twitter: @kimiisstellar,
www.kimberlydelacruz.com
.
Okky Ardya
started her journalism career in 2003 as a reporter. She worked as a writer for online news, copywriter, TV screenwriter and editor of a graphic design magazine. In 2013 she received a fellowship to study at the Asian Center for Journalism at Ateneo de Manila University in the Philippines. In 2014 she participated in the 10th Edition of the Angkor Photo Workshops in Cambodia. In 2015, her work was exhibited at the Kathmandu Photo Festival, Nepal. Most recently she was selected for the Kenya and London based Global Innovation & Leadership project, organized by Deutsche Gesellschaft für Internationale Zusammenarbeit (GIZ) and Thomson Reuters Foundation. She loves to work on long-term documentary projects focusing on gender issues and human rights.