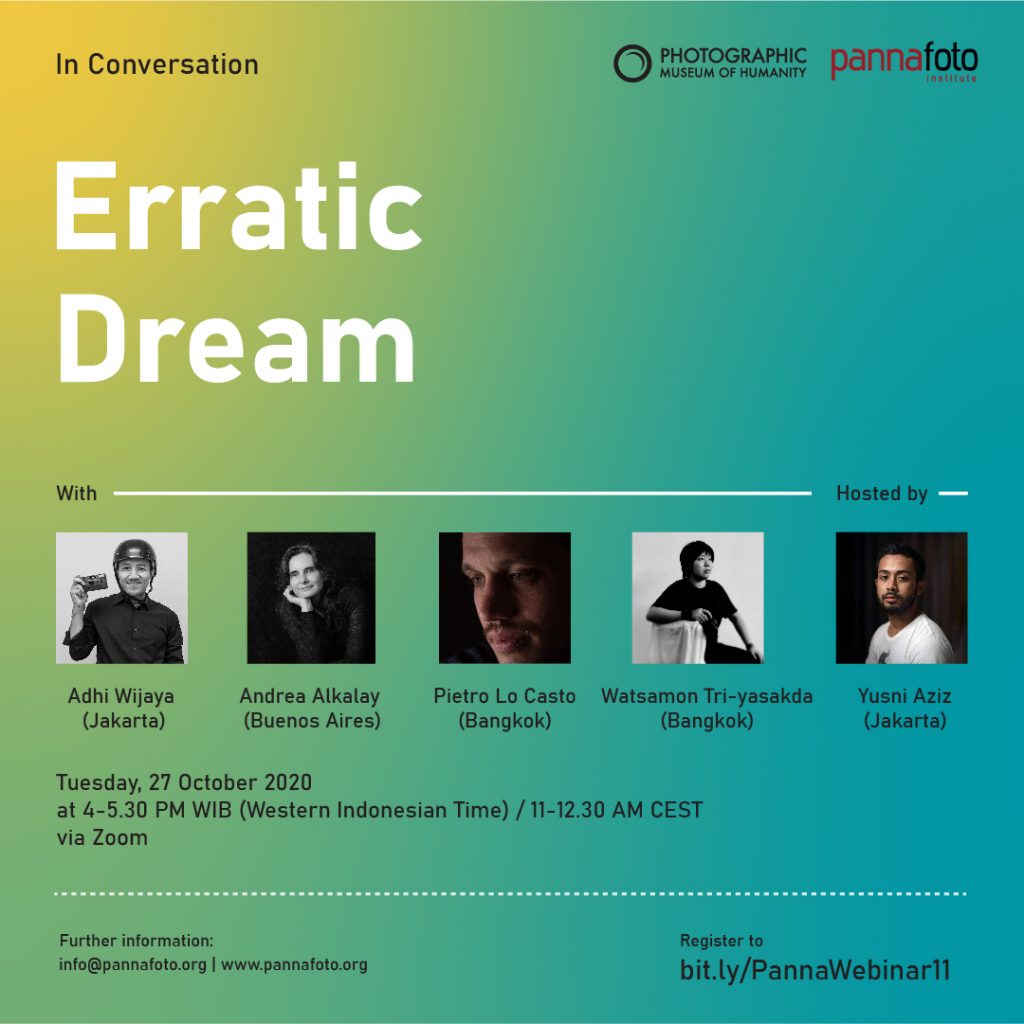 In Conversation
ERRATIC DREAM
with Adhi Wijaya (Jakarta), Andrea Alkalay (Buenos Aires), Pietro Lo Casto (Bangkok), Watsamon Tri-yasakda (Bangkok)
hosted by Yusni Aziz (Jakarta)
Tuesday, 27 October 2020
at 4-5.30 PM WIB (Western Indonesian Time) / 11-12.30 AM CEST
via Zoom
Join these participating photographers of the Erratic Dream exhibition that lives on PHmuseum platform. The session will provide an opportunity to discuss stories behind their works and perspectives on what is going on in society in the South and South-East Asia regions.
The interactive conversation will be conducted on Zoom, free of charge with limited participants.
Register to
bit.ly/PannaWebinar11
Further information:
info@pannafoto.org
www.pannafoto.org
---
Adhi Wijaya Working as a reporter on a news TV in Indonesia since 2012, I often cover extraordinary crimes such as environmental issues, drugs, human rights issues, and security issues in-depth around Indonesia. Having an interest in making documentary photos, in 2019 I start studying foundation photography and visual storytelling at PannaFoto Jakarta. Live in North Jakarta, I witnessed land subsidence and sea-level rise that inspire me to make photo project about the condition of the Jakarta coast.
Andrea Alkalay is an art photographer currently based in Buenos Aires, Argentina. She holds a degree in Industrial Design, so materials have always been tools to highlight concepts.
Pietro Lo Casto is an Italian Visual Artist working with images and video, he was born in Bologna, 1986 and currently based in Bangkok. He graduated from the International Program of Photography at Pathshala South Asian Media Institute. Prior to photography, Pietro studied Marketing and worked in the advertising department of Apple in London. He stumbled upon image making through an exceptional encounter during a solo trip to South America, where he also experienced a profound personal connection with nature. Lo Casto's work explores social and environmental issues, with a particular focus on the impact they have on the relationship between man and nature. In 2020 he is one of the three winners of the 15th edition of the Premio Canon Young Photographers. Pietro is currently an Associate Researcher at the Center for Ethnic Studies and Development of the University of Chiang Mai, Thailand.
Watsamon Tri-yasakda, also known as "June" is a photographer and visual storyteller based in Bangkok, Thailand. She is actively documenting issues of human rights for LGBTIQ community in Thailand and Southeast Asia. She has been working with local and international editorial publications, organizations and commercial clients. Her works have been published and featured in the local and international publications. Since 2018, she has been working as a full-time photographer at THE STANDARD, a leading media outlet from Thailand covering all things news, culture and lifestyle.
Yusni Aziz (1987) is a photographer and writer based in Jakarta. He completed his postgraduate studies in architecture at Berlage Institute, The Netherlands. His works mainly focus on self, people, travel, urban and land-related issues. His works have been published by The Guardian, DestinAsian Indonesia, PHmuseum, Tempo, and many more. He has also exhibited at Photoville, USA and Wisdom Photo Exhibition at Erasmus Huis, Jakarta. He is the co-founder of "Heterogenic", an online photography platform for Indonesian storytellers.