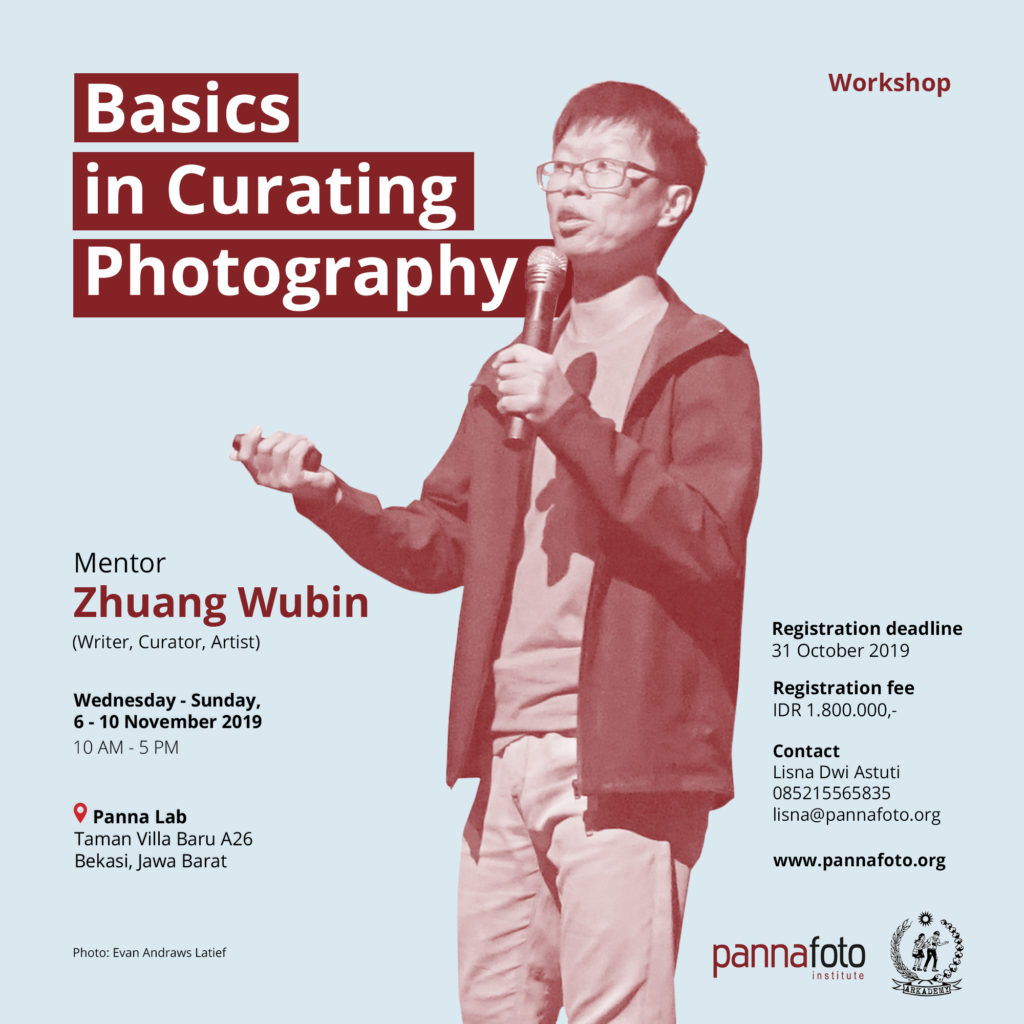 BASICS IN CURATING PHOTOGRAPHY
With Zhuang Wubin (Writer, Curator, Artist)
Wednesday-Sunday, 6-10 November 2019
10 AM – 5 PM
Panna Lab
Taman Villa Baru A26
Pekayon Jaya, Bekasi Selatan
Bekasi, Jawa Barat 17148
Registration Deadline
Thursday, 31 October 2019
Registration Fee
IDR 1.800.000,-
Participants
Maximum of 12 participants
Contact
Lisna Dwi Astuti
085215565835
lisna@pannafoto.org
www.pannafoto.org
This workshop aims to provide participants with the basic skill set of curating a photography exhibition. It will take the participants through the curating process: from planning the show, conducting research and interviews, to the design and setting up of the exhibition. The workshop will take the form of short lectures and fieldwork, combining theory and practical work. It will be based on Zhuang Wubin's ongoing research of his experiences in curating photography exhibitions in Southeast Asia. This workshop is tailored for photographers, curators, writers, designers and other cultural workers who are interested in learning more about thinking, writing and curating photography.
To apply send in your contact details to lisna@pannafoto.org. The maximum amount of participants is 12 participants. Workshop participants are required to have fluency in written and spoken English.
About the mentor
Zhuang Wubin is a writer, curator and artist.
As a writer/curator, Zhuang focuses on the photographic practices of Southeast Asia and Hong Kong. He uses the medium as a prism to explore the following trajectories: photography and Chineseness, periodicals and photobooks as sites of historiography, and photography's entanglements with nationalism and the Cold War.
Zhuang is an editorial board member of Trans-Asia Photography Review, recipient of the Prince Claus Fund research grant (2010) and a Lee Kong Chian research fellow at the National Library Board (NLB) of Singapore (Dec 2017 to Jun 2018). Zhuang is the major grantee of The Robert H. N. Ho Family Foundation Greater China Research Grant 2018. He has been invited to research residency programmes at Institute Technology of Bandung (2013), Asia Art Archive (AAA), Hong Kong (2015), Kuandu Museum of Fine Arts, Taiwan (2017) and the Ha Bik Chuen Archive Project at AAA (2018). He is the contributing curator of the Chiang Mai Photo Festival (2015, 2017, 2020).
Published by NUS Press, Photography in Southeast Asia: A Survey (2016) is his fourth book. His fifth publication is titled Shifting Currents: Glimpses of a Changing Nation (2018), a commission by the NLB, which features the work of Singaporean photographer Kouo Shang-Wei.
As an artist, Zhuang uses photography and text to visualise the shifting experiences of Chineseness in Southeast Asia.