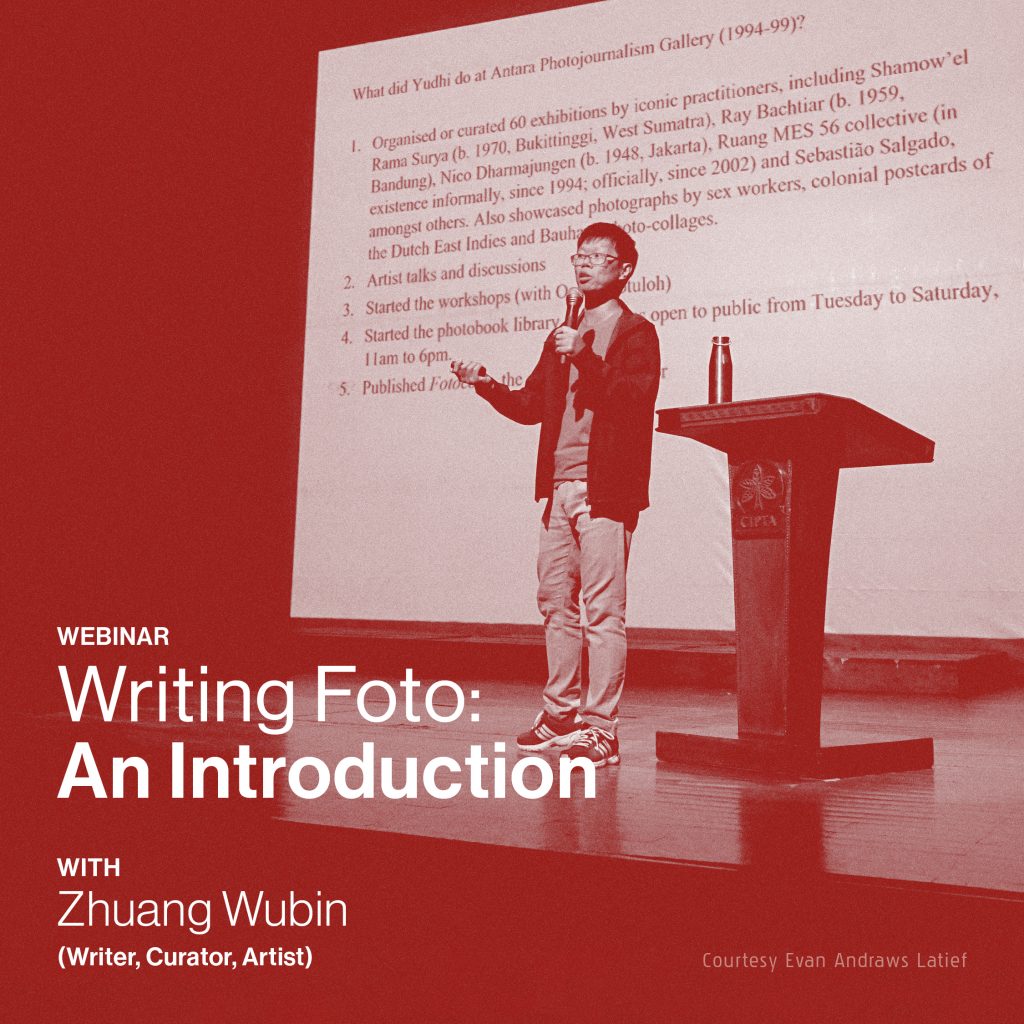 Webinar Menulis untuk Fotografi bersama Zhuang Wubin
Satu foto dapat mengungkapkan seribu kata – tetapi kata-kata yang mana? Seorang fotografer perlu membingkai foto atau foto ceritanya dengan konteks untuk menyampaikan makna yang tepat pada audiens.
PannaFoto mengundang penulis dan kurator Zhuang Wubin untuk menyampaikan webinar yang akan membahas tulisan dalam fotografi. Termasuk dalam jenis tulisan yang akan dibahas adalah bio fotografer, teks untuk memperkenalkan sebuah proyek, keterangan karya yang ditulis fotografer (artist statement), wawancara dan profil, teks kuratorial, pameran, atau ulasan buku foto, dan esai mengenai perkembangan dunia fotografi.
Wubin adalah penggagas blog Writing Foto, sebuah platform digital untuk menampung koleksi tulisan mengenai fotografi dan isu-isu yang berkaitan dengannya. Sebagai pengurus blog, ia bermitra dengan Matca (Hanoi), Luzviminda, Archive of Philippine Photography (Manila), Arkademy (Bogor), Asia PaperCamera (Kuala Lumpur), dan Nope Fun (Singapura).
Dalam webinar bersama PannaFoto, ia akan menampilkan presentasi selama 60 menit, yang disambung dengan diskusi terbuka dengan peserta selama 30 menit.
Webinar diantarkan dalam bahasa Inggris. Untuk mengikuti webinar, peserta dikenakan biaya sebesar Rp150.000. Klik bit.ly/WRITINGFOTO28 untuk mendaftar, dan kontak Asa (0858 8812 7367) untuk info lebih lanjut.
Pembayaran dapat melalui transfer bank dan Paypal:
PayPal : wubin.sg@gmail.com
Bank Transfer: 166 000 2400 091 (Mandiri) a.n. Yayasan Panna
Tentang Zhuang Wubin
Sebagai penulis dan kurator, Wubin fokus pada praktik fotografi di Asia Tenggara dan Hong Kong. Buku kelimanya, Shifting Currents: Glimpses of a Changing Nation, menampilkan karya fotografer Singapura Kouo Shang-Wei. Sebagai seorang artis, Zhuang menggunakan fotografi dan teks untuk memvisualisasikan pengalaman "menjadi Cina" yang terus berubah di Asia Tenggara. Dia adalah anggota dewan editor Trans-Asia Photography Review, penerima dana penelitian Prince Claus Fund, serta mitra peneliti Lee Kong Chian di National Library Board Singapore (2017-2018).
______________________________________________________
Writing Photo: An Introduction with Zhuang Wubin
PannaFoto Institute x Writing Foto invites writer and curator Zhuang Wubin to presents an overview of different writings related to photography. Through study cases and examples, participants will have a knowledge on various type of photography writing, including project introduction, artist statement and photographer's bio, curatorial text, exhibition or photobook review, and an essay reporting on a specific development about photography.
Wubin is the founding member of Writing Foto, a digital platform for writings on (or surrounding) photography. As the manager, he partnering with Matca (Hanoi), Luzviminda, Archive of Philippine Photography (Manila), Arkademy (Bogor), Asia PaperCamera (Kuala Lumpur), and Nope Fun (Singapura).
Join the webinar, 28 August 2022, at 16.00-17.30 WIB (GMT+7). Registration via bit.ly/WRITINGFOTO28
with registration fee Rp. 150.000,- / USD 11,-
Payment via Bank transfer or paypal
PayPal : wubin.sg@gmail.com
Bank Transfer: 166 000 2400 091 (Mandiri) a.n. Yayasan Panna
*payment with paypal kindly please pay attention to additional deductions
About Zhuang Wubin
As a writer and curator, Zhuang focuses on the photographic practices of Southeast Asia and Hong Kong. His fifth book, Shifting Currents: Glimpses of a Changing Nation, features the work of Singaporean photographer Kouo Shang-Wei. As an artist, Zhuang uses photography and text to visualize the shifting experiences of Chineseness in Southeast Asia. He is an editorial board member of Trans-Asia Photography Review, recipient of the Prince Claus Fund research grant and a Lee Kong Chian research fellow at the National Library Board of Singapore (2017-2018)
#WritingFoto #Photowebinar #PannaFoto