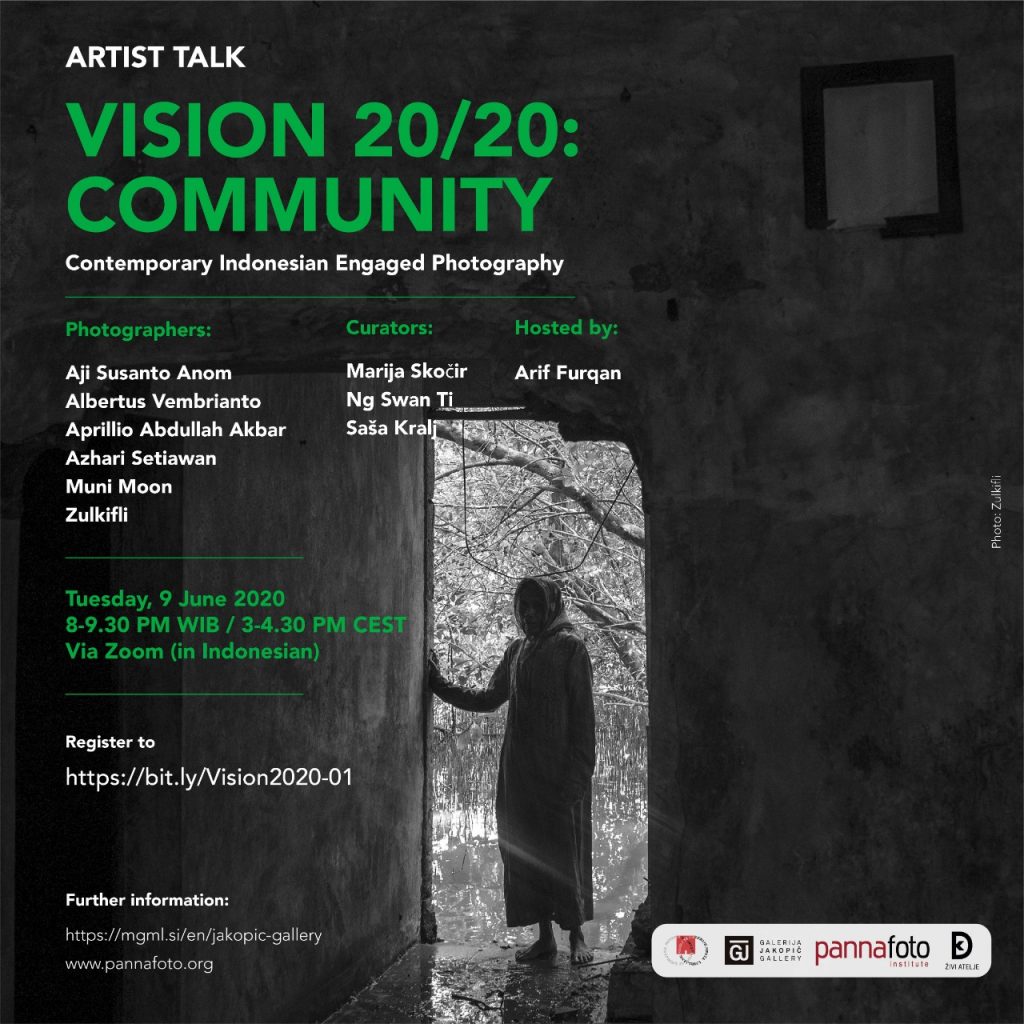 ARTIST TALK
VISION 20/20: COMMUNITY
Contemporary Indonesian Engaged Photography
This session will discuss the exhibition as a platform to spark a dialog between Indonesian photographers and Slovenian as well as wider European audience. It will discuss curatorial process and how an Indonesian photographer explores, engages with and thinks about the idea of community.
Tuesday, 9 June 2020
8-9.30 PM WIB/3-4.30 PM CEST
via Zoom (in Indonesian)
Photographers
Aji Susanto Anom
Albertus Vembrianto
Aprillio Abdullah Akbar
Azhari Setiawan
Muni Moon
Zulkifli
Curatorial team
Marija Skočir (The Jakopič Gallery)
Ng Swan Ti (PannaFoto Institute)
Saša Kralj (Living Atelier DK)
Hosted by
Arif Furqan
This artist talk will be conducted on Zoom in Indonesian, free of charge with limited participants.
Register to
bit.ly/Vision2020-01
Further information:
https://mgml.si/en/jakopic-gallery
www.pannafoto.org
---
Aji Susanto Anom
(1989) is a photographer and lecturer based in Indonesia. His work explores the personal question of his inner life. He has published five photobooks, titled "Nothing Personal", "Poison", "Recollecting Dreams", "Recollecting Dreams: Verse II" and "River of Hades". He is part of the collaborative project called "Flock Project" which explores the potential of the photobook and photozine format. In 2015, he participated in the Angkor Photo Workshop, mentored by Antoine D'Agata and Sohrab Hura. In 2016, he was a finalist of Burn Magazine Emerging Photographer Fund. His work has been featured in a number of publications and exhibited globally.
Albertus Vembrianto
(1980) is a freelance photojournalist and visual storyteller who works mostly on independent projects based in Papua. He began working on Papua issues in 2009 and is currently working on a long-term photo project about the changing landscape of Papuan life. His photographic work has been published by local and international media, in addition to several books together with other photographers and writers. He is seldom published under the name Vembri Waluyas. In 2019, he was selected as one of the emerging photographers from Southeast Asia and Oceania for the 6×6 Global Talent Program by World Press Photo.
Aprillio Abdullah Akbar
(1994) is a photojournalist currently residing in Jakarta. He has been exposed to photography since a very young age, through the strong influence of his father who worked as a wedding photographer. After graduating as a Photography major from the Indonesia Institute of The Arts in Yogyakarta (ISI Yogyakarta) he started working as a contributor to the National News Agency Antara, covering assignments ranging from daily life to social and political issues, law, economics, sports and disasters.
Arif Furqan
is a freelance photographer and writer. Currently doing project on Unhistoried, Indonesian family photograph and archive. Co-founder of Walkingalam community. Also a part of Flock Project, a collective exploring the possibilities of photographic works through printed matters. Now temporarily resides and works in Chiang Rai, Thailand as lecturer.
Azhari Setiawan
(1988) is a photographer based in Jakarta. He enjoys creating photo stories about nature, humans, culture, communities and social issues, especially those from Indonesia. In his opinion, Indonesia has so many stories that are worth telling, and as a local he is passionate about sharing them through this medium, along with the numerous photographers who come from outside. He is currently working as a photographer for the Indonesia Ministry of Tourism's Public Relations Office and his dream is to tell as many stories possible about Indonesia to the world.
Marija Skočir
, born 1980, MA in Art History and Comparative Literature and Literary Theory is a senior curator and art gallery director of the Jakopič and Match galleries within the Museum and Galleries of Ljubljana, Slovenia. She is currently completing her PhD on history of Central European photography at the University of Ljubljana. She has curated or co-curated more than 30 photographic and other visual arts exhibitions (many of those retrospective and by world-renowned photographers, including Josef Koudelka, Roger Ballen, Lee Miller, Sebastião Salgado, Marc Riboud and several established Slovenian photographers) and managed more than 70 exhibition projects. Her most recent project that she co-curated is the exhibition of Indonesian contemporary engaged photography Vision 20/20: Community. Besides curatorial work, she keeps developing innovative educational approaches in the field of photography as accompanying programmes to the exhibitions in Jakopič Gallery as well as building up communities, which focus on sharing of photographic and storytelling skills, awareness and knowledge.
Muni Moon
(1984) graduated from the Institute of Social and Political Sciences (IISIP) in Jakarta, with a major in Journalism. She worked in the Digitalization Section of Photo Archives at the Jakarta Arts Council from 2008 to 2009. In 2018, she published a photo book entitled "Senja" in Surabaya. Her work focuses on humanity, women, children, discrimination, marginal communities and stereotypes. She loves travelling to small villages in Indonesia, reading books and knitting along the way.
Ng Swan Ti
lives and works in Jakarta, where she divides her time between personal projects and photography education at PannaFoto Institute. She pursues her career in photography upon participating in a workshop held by World Press Photo Foundation and "i see" (Imaging Center) in Jakarta in 2002, followed by a photography forum held by Asia-Europe Foundation and World Press Photo in Amsterdam in 2003. Her works on self-religious exploration have been exhibited in several exhibitions and festivals, including Noorderlicht Photo Festival (2006), Jakarta Biennale (2015), DongGang International Photo Festival (2016) and Photography in Southeast Asia (II) at Lumenvisum, Hongkong (2018). Her first photo book Illusion was launched in 2014.
Saša Kralj
held an editorial training for World Press Photo in Jakarta at the start of the PannaFoto Institute and is still one of the guest mentors. He was teaching photojournalism in China's Shantou University and the American University of Iraq. Presently he is one of the mentors at photography workshop program "Up Close" of Jakopič gallery in Ljubljana, Slovenia, and is one of the founders and coordinators of the Living Atelier DK (Zivi Atelje) art cooperative in Zagreb, Croatia.
Zulkifli
(1985) became a photographer by accident after a big earthquake hit West Sumatra in 2009. As a volunteer, he was assigned to document the activities of other volunteers in the area. Between 2012 and 2017, he worked as a contributor to the Agence France-Presse and the European Pressphoto Agency. In 2017, he started working as a freelance photojournalist and was involved in various documentary photo projects. In the same year he was selected as one of the recipients of the Permata Photojournalist Grant and was awarded for his photo story during the program. He currently divides his time between Sumatra and Jakarta, working on personal projects and taking assignments for editorial work.