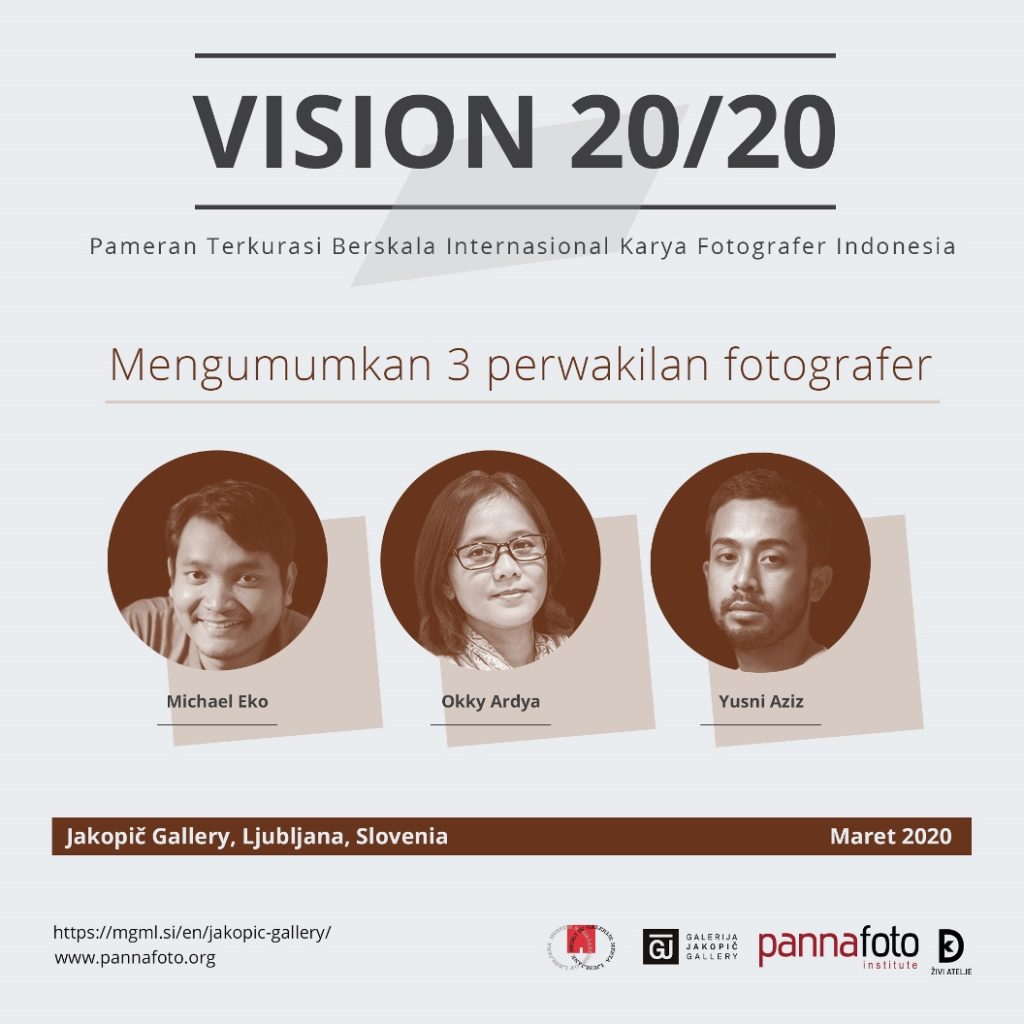 Dengan gembira kami sampaikan bahwa persiapan pameran Vision 20/20 yang menampilkan karya fotografi kontemporer Indonesia berlangsung dengan baik.
Dalam dua hari terakhir, tim kurator Marija Skočir (Jakopič Gallery-Slovenia), Ng Swan Ti (PannaFoto Institute-Indonesia) dan Saša Kralj (Živi Atelje DK-Kroasia) secara intensif bekerja dengan para fotografer yang karyanya terpilih untuk dipamerkan di Jakopič Gallery dari 3 Maret hingga 31 Mei 2020.
Tim kurator mendapatkan tugas yang sulit, yaitu menentukan 3 fotografer yang akan mendapat kesempatan berkunjung ke Slovenia untuk mempresentasikan karya mereka dan kolega mereka, sekaligus memperkenalkan kekayaan dan keberagaman skena fotografi di Indonesia.
Tiga fotografer yang terpilih adalah:
Michael Eko
Okky Ardya
Yusni Aziz
Kriteria yang sangat menentukan dalam tahap akhir proses pemilihan adalah konten karya, yang harus berkaitan erat dengan perdebatan terkini di Slovenia dan masyarakat Eropa dalam skala yang lebih luas, termasuk di dalam fotografi, dan sekaligus berkesinambungan dengan visi Jakopič Gallery. Kami sangat menantikan kedatangan pengkarya yang berbakat tersebut di Ljubljana!
Pada akhirnya, kami ingin menyampaikan rasa terima kasih kepada seluruh fotografer yang telahberpartisipasi dalam pertemuan kuratorial kami di Jakarta, dan kami sangat menghargai kesempatan untuk mengetahui lebih banyak tentang mereka maupun projek-projek mereka.
---
We are pleased to report that the Vision 20/20 exhibition on contemporary Indonesian photography is shaping up nicely. For the last two days the curators Marija Skočir (Jakopič Gallery-Slovenia), Ng Swan Ti (PannaFoto Institute-Indonesia) and Saša Kralj (Živi Atelje DK-Croatia) have been working intensively with the photographers of all the selected projects to be presented in Jakopič Gallery from 3 March to 31 May 2020.
The curatorial team has been tasked with a difficult challenge to choose 3 photographers, who will be given the opportunity to travel to Slovenia to present their work along with the work of their colleagues and represent the vibrant and diverse Indonesian photography scene.
The selected photographers are:
Michael Eko
Okky Ardya
Yusni Aziz
The decisive criteria in the final stage of the selection process was the projects' subject matter, which should best tie in with the topical question of Slovenian and broader European society and photography, as well as embody the vision of Jakopič Gallery. We are very much looking forward to welcoming these talented authors in Ljubljana!
Last but not least, we would like to extend our gratitude to all the photographers for taking part in our curatorial meeting in Jakarta, as we greatly appreciate the opportunity to get to know more about them and their projects.