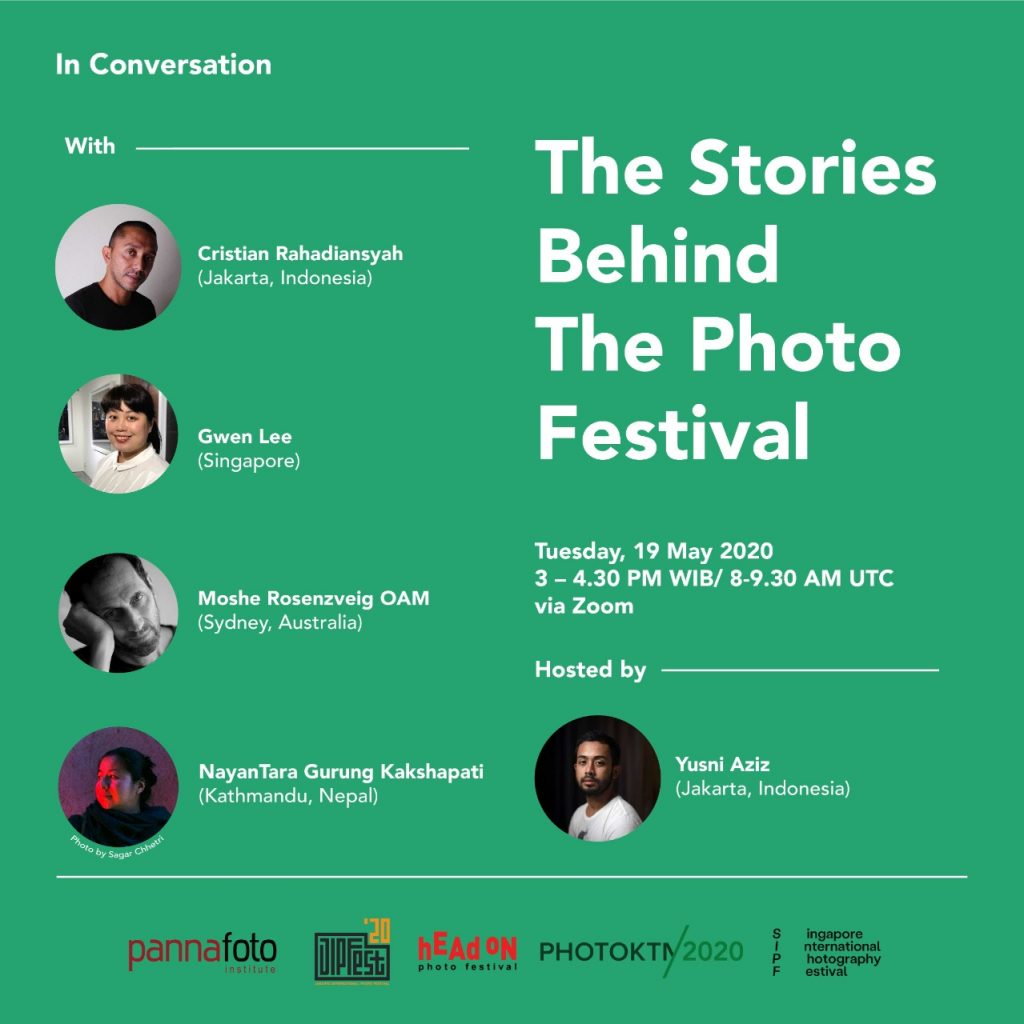 In Conversation
The Stories Behind The Photo Festival
with
Cristian Rahadiansyah (Jakarta, Indonesia)
Gwen Lee (Singapore)
Moshe Rosenzveig OAM (Sydney, Australia)
NayanTara Gurung Kakshapati (Kathmandu, Nepal)
hosted by
Yusni Aziz (Jakarta, Indonesia)
Tuesday, 19 May 2020
3–4.30 PM WIB (Indonesian Western Standard Time) / 8–9.30 AM UTC
Join us in conversation with the festival directors from various countries as they will give us an understanding on organising the photo festival, share their best practices they have done and the challenges they face in the unprecedented situation of COVID-19 pandemic.
The interactive conversation will be conducted on Zoom, free of charge with limited participants.
Register to
bit.ly/PannaWebinar07
Further information:
info@pannafoto.org
www.pannafoto.org
---
Cristian Rahadiansyah is the Festival Director of Jakarta International Photo Festival (JIPFest). The Jakarta-based journalist has worked for seven different magazines in the last 15 years. Cristian has written and edited several books, hosted a radio talk show as well as given talks in various writer and photographer forums.
Gwen Lee. Driven by love for photography, Gwen Lee co-founded Singapore International Photography Festival (SIPF), a biennale international photography platform in 2008. For her daring vision, she received an arts award from Japan Chamber of Commerce & Trade for her contribution to the Singapore arts community in 2010. By 2013, the festival seed grant from the arts council to further develop photography education in Singapore. In 2014, Gwen and team built an independent creative container art space calls "DECK" consisting of a photobook library, galleries and residency programme for photographers. DECK is awarded President's Design Award 2015 (Singapore) for its innovative design in the community and later received NAC Major Company Grant in 2016 to develop its organisation ability and programme for photography. As a curator, she curated & organised photography exhibitions both in Singapore and overseas includes Flux: Contemporary Photography from China at the Art Science Museum, a photobook exhibition with Steidl publishing at DECK, and Daido Moriyama's major solo exhibition in Singapore. She was invited as speaker, portfolio reviewer and jury member internationally. Currently, Gwen and team are planning for the 7th Singapore Photography Festival opening in November 2020.
Moshe Rosenzveig OAM is the founder and Creative Director of Head On Photo Festival. He has over 40 years' experience in the media as a photographer, award-winning television producer/director (SBS TV) and curator. He has held lecturing positions at the University of Technology (UTS), the Australian Film, Television and Radio School (AFTRS) and others. He has also sat on judging panels for various competitions including The Walkleys, Tokyo Photography Prize, Sydney's Art & About and is the lead judge for Head On Photo Awards.
NayanTara Gurung Kakshapati lives in Kathmandu, Nepal and works at the intersections of visual storytelling, research, pedagogy, and collective action. In 2007, she co-founded photo.circle; a platform that facilitates learning, exhibition making, and publishing opportunities for Nepali photographers that is working in increasingly trans-disciplinary ways. In 2011, she co-founded Nepal Picture Library; a digital archiving initiative that works towards diversifying Nepali social and cultural history. NayanTara is also the co-founder and Festival Director of Photo Kathmandu, an international festival that takes place in Kathmandu every two years.
Yusni Aziz is a photographer and writer based in Jakarta. He completed his postgraduate studies in architecture at Berlage Institute, The Netherlands. His works mainly focus on self, people, travel, urban and land-related issues. His works have been published by The Guardian, DestinAsian Indonesia, PHmuseum, Tempo, and many more. He has also exhibited at Photoville, USA and Wisdom Photo Exhibition at Erasmus Huis, Jakarta. He is the co-founder of "Heterogenic", an online photography platform for Indonesian storytellers.