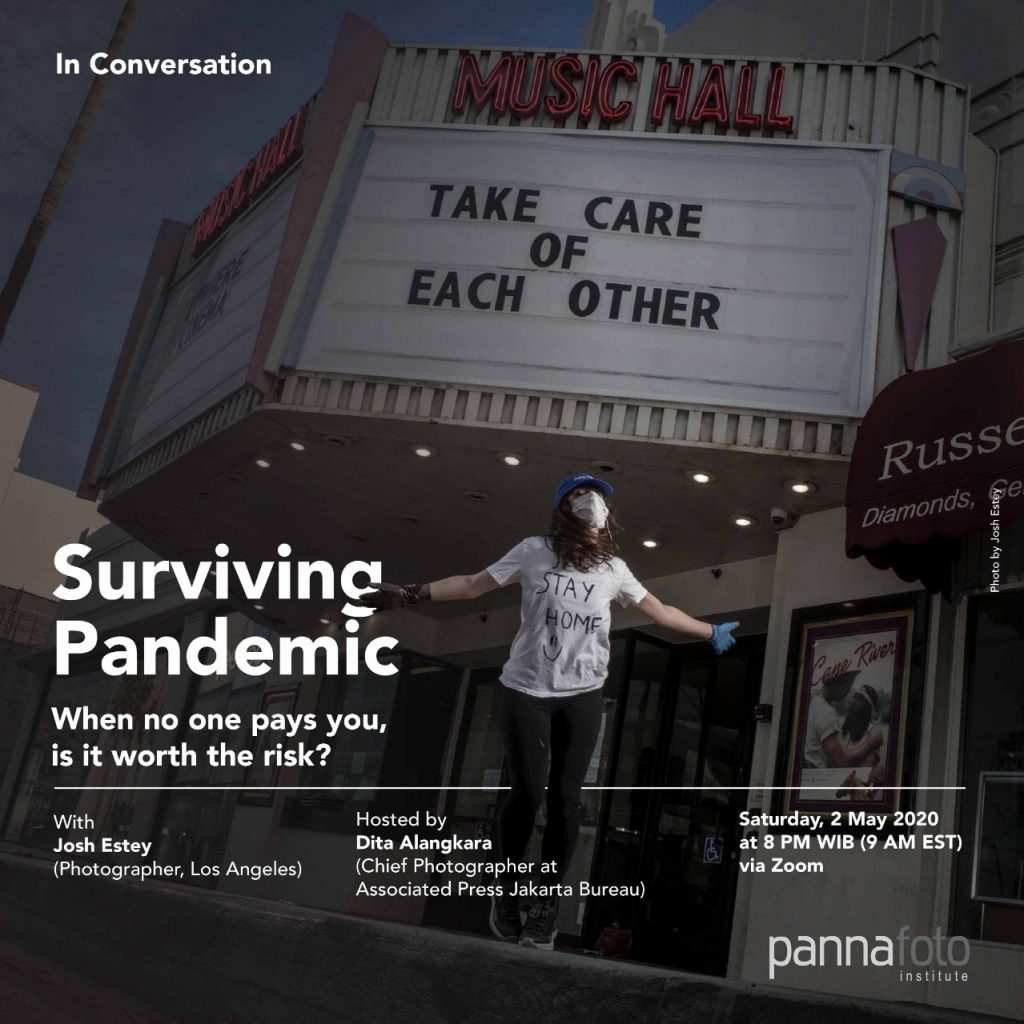 In Conversation
Surviving Pandemic – When no one pays you, is it worth the risk?
with Josh Estey (Photographer, Los Angeles)
hosted by Dita Alangkara (Chief Photographer at Associated Press Jakarta Bureau)
Saturday, 2 May 2020
at 8 PM WIB (Indonesian Western Standard Time) / 9 AM EST
via Zoom
Join Josh Estey (www.joshestey.com) as he shares his perspective on working as one of the world's top humanitarian relief and development documentary photographers who has covered pandemic around the globe. Today, he shoots the pandemic Covid-19 from his backyard in Los Angeles.
The interactive conversation will be conducted on Zoom, free of charge with limited participants.
Register to
Bit.ly/PannaWebinar01
Further information:
info@pannafoto.org
www.pannafoto.org
---
Josh Estey is one of the world's top humanitarian relief and development documentary photographers. His work for UNICEF, CARE, USAID, World Food Programme, World Bank, Australian Aid, Mercy Corps, ReSurge and others captures moments of dignity and spirit without ever sacrificing truth or context, and has helped lead the radical transformation of non-profit photography and videography over the past two decades. A Pulitzer-nominee and recognised by World Press, Josh's photojournalistic and video work has appeared in Time, Newsweek, Far Easter Economic Review, Geo Kids, Paris Match, People Magazine, O-Magazine, CNN, Channel 7, and CCTV. He is based in Los Angeles and Jakarta.
Dita Alangkara is the co-founder of 1000kata.com. Born in Yogyakarta and graduated from Mass Communications, University of Gadjah Mada. Dita has spent the last fifteen years working as a photojournalist and covering various events. Some of those events include the separation of East Timor from Indonesia, Bali Bombing, Aceh separatist conflicts, sectarian violence in Maluku, Aceh Tsunami, and many others. He has also covered Australian Open tennis tournament three times in Melbourne, Australia; Asean Games in Busan, South Korea, and Guangzhou, China; Rugby World Cup in New Zealand; Haiyan Typhoon in the Philippines and other major events across Asia-Pacific region. In 2012, his work was exhibited in Tokyo, in an exhibition titled AP Captures the World. Dita was also one of the mentors at Shooting Home workshop in Singapore in 2013. Today, Dita works as Chief Photographer at Associated Press in Indonesia.