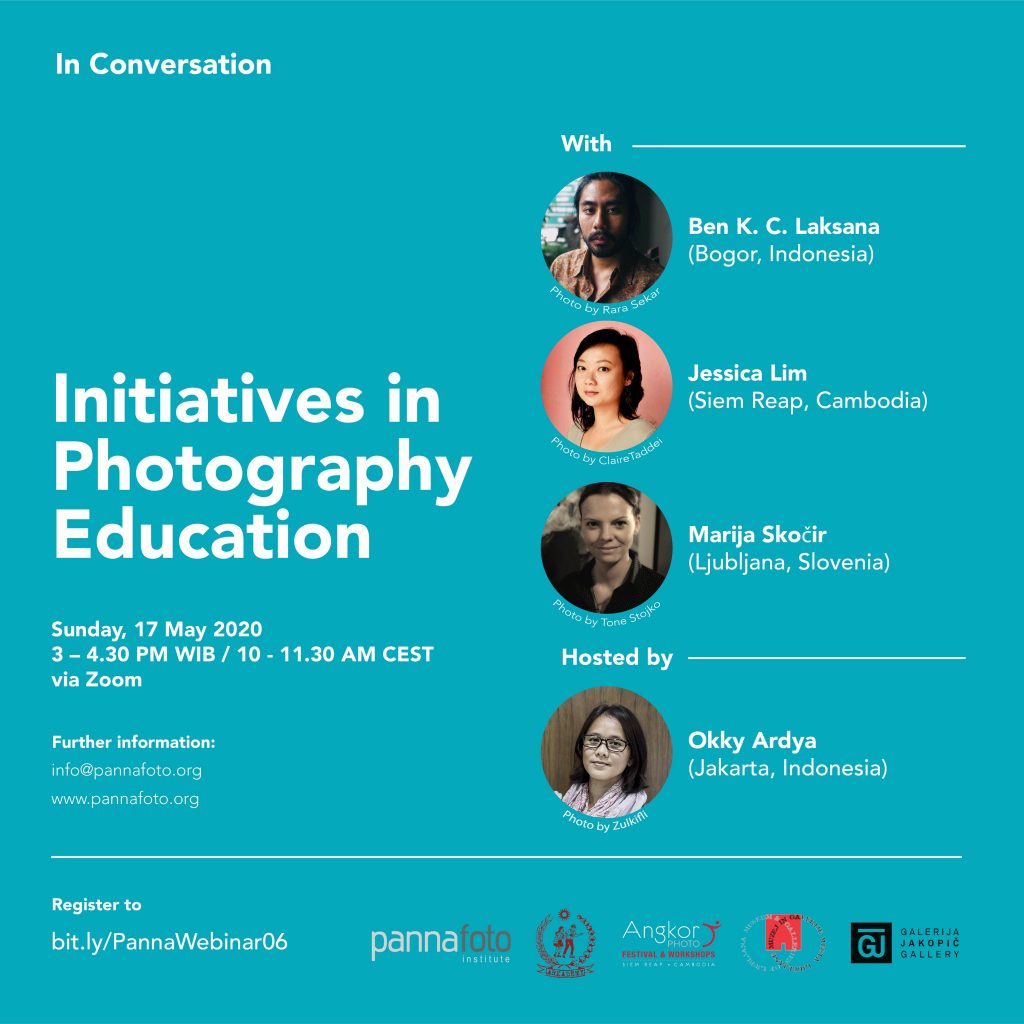 In Conversation
Initiatives in Photography Education
with
Ben K. C. Laksana (Bogor, Indonesia), Jessica Lim (Siem Reap, Cambodia), Marija Skočir (Ljubljana, Slovenia)
hosted by
Okky Ardya (Jakarta, Indonesia)
Sunday, 17 May 2020
3 – 4.30 PM WIB (Indonesian Western Standard Time) / 10 – 11.30 AM CEST
Join us in conversation with the photography educator, initiator and organiser as they will share their personal perspectives on education, their best practices of photography education and community building that they have done, including the chosen platforms to implement their programs and access to the potential collaboration in strengthening the photography ecosystem in their respective cities.
The interactive conversation will be conducted on Zoom, free of charge with limited participants.
Register to
bit.ly/PannaWebinar06
Further information:
info@pannafoto.org
www.pannafoto.org
---
Ben K. C. Laksana is a freelance researcher with more than 8 years of experience in research within the intersection of sociology, education, and youth. Apart from research, he is also currently active as a lecturer in the International Relations department at the International University of Liaison Indonesia (IULI). He is also active as an educator under Arkademy, a photography collective, in which he actively participates in developing critical education for the general public through the use of photography as a medium for critical education.
Jessica Lim is currently the director of the non-profit Angkor Photo Festival & Workshops which takes place annually in Siem Reap, Cambodia. Prior to joining the festival in 2010, she was a news and photo journalist in Singapore before serving as a photo and news editor at Drik Picture Library in Dhaka, Bangladesh, as well as a photographer liaison for Majority World, a photo agency which advocates for equal opportunities and diversity for photographers.
Marija Skočir, born 1980, MA in Art History and Comparative Literature and Literary Theory is a senior curator and art gallery director of the Jakopič and Match galleries within the Museum and Galleries of Ljubljana, Slovenia. She is currently completing her PhD on history of Central European photography at the University of Ljubljana. She has curated or co-curated more than 30 photographic and other visual arts exhibitions (many of those retrospective and by world-renowned photographers, including Josef Koudelka, Roger Ballen, Lee Miller, Sebastião Salgado, Marc Riboud and several established Slovenian photographers) and managed more than 70 exhibition projects. Her most recent project that she co-curated is the exhibition of Indonesian contemporary engaged photography Vision 20/20: Community. Besides curatorial work, she keeps developing innovative educational approaches in the field of photography as accompanying programmes to the exhibitions in Jakopič Gallery as well as building up communities, which focus on sharing of photographic and storytelling skills, awareness and knowledge.
Okky Ardya (1977) started her journalism career in 2003 as a reporter. She worked as a writer for online news, copywriter, TV screenwriter and editor of a graphic design magazine. In 2013 she received a fellowship to study at the Asian Center for Journalism at Ateneo de Manila University in the Philippines. In 2014 she participated in the 10th Edition of the Angkor Photo Workshops in Cambodia. In 2015, her work was exhibited at the Kathmandu Photo Festival, Nepal. Most recently she was selected for the Kenya and London based Global Innovation & Leadership project, organized by Deutsche Gesellschaft für Internationale Zusammenarbeit (GIZ) and Thomson Reuters Foundation. She loves to work on long-term documentary projects focusing on gender issues and human rights.