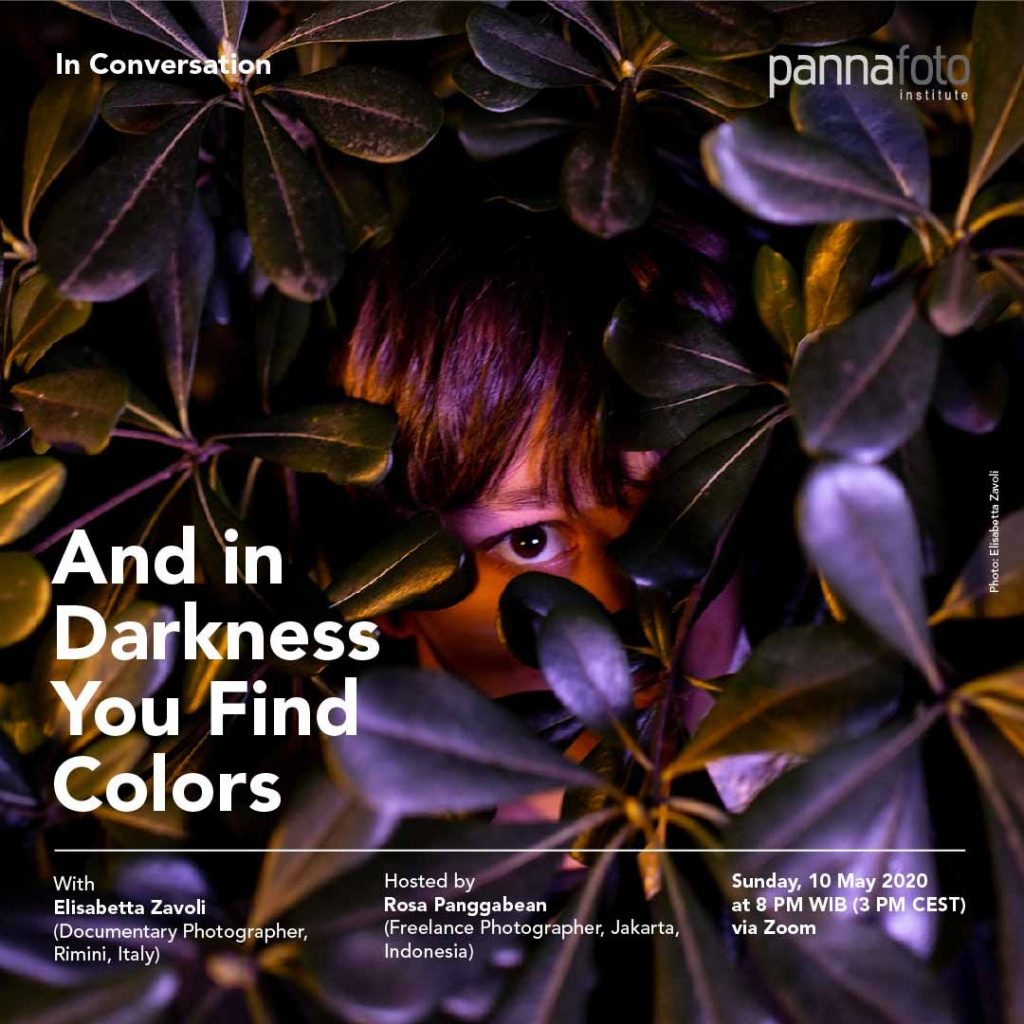 In Conversation
And in Darkness You Find Colors
with Elisabetta Zavoli (Documentary Photographer, Rimini, Italy)
hosted by Rosa Panggabean (Freelance Photographer, Jakarta, Indonesia)
Sunday, 10 May 2020
at 8 PM WIB (Indonesian Western Standard Time) / 3 PM CEST
Join Elisabetta Zavoli (www.elisabettazavoli.com), a documentary photographer based in Rimini. She will share her visual diary during the outbreak of coronavirus in Italy in early March 2020 as her way of celebrating Mother's Day in her home country. It is a participatory project that she has been doing with her two sons, Davide and Giovanni.
The interactive conversation will be conducted on Zoom, free of charge with limited participants.
Register to
bit.ly/PannaWebinar03
Futher information:
info@pannafoto.org
www.pannafoto.org
---
Elisabetta Zavoli is an Italian freelance documentary photographer since 2009. She has been living in Indonesia for 6 years where she has investigated gender issues, related to the community of waria (Indonesian transgender women) and environmental issues related to pollution (by mercury and by plastic) and climate change. In 2016, she has been awarded "Journalism Grant for Innovation in Development Reporting", by European Journalism Centre for the project "A fistful of shrimps", about the deforestation of Indonesian mangroves ecosystems driven by the western hunger for cheap tropical shrimps. In 2019, she has been awarded Earth photo 2019 by Royal Geographical Society of London for her picture "The landfill midwife". She is a member of international photo collective Women Photograph and Instagram group @Everydayclimatechange.
Rosa Panggabean is a freelance photographer based in Jakarta. In the past she worked as a photojournalist for a national newspaper and national news agency, pursuing issues of social change, identity and human rights. Her interest in film, music, travel, fiction and literature, made her realize there are many ways to tell stories and there are many stories to tell. In photography, Rosa likes to explore the technical aspect of the medium and the various approaches to storytelling. She is active as a mentor in several workshops for students and the public. For the past three years, she has been the co-mentor in the Permata Photojournalist Program at the PannaFoto Institute. She has also published an independent photobook titled "Exile".