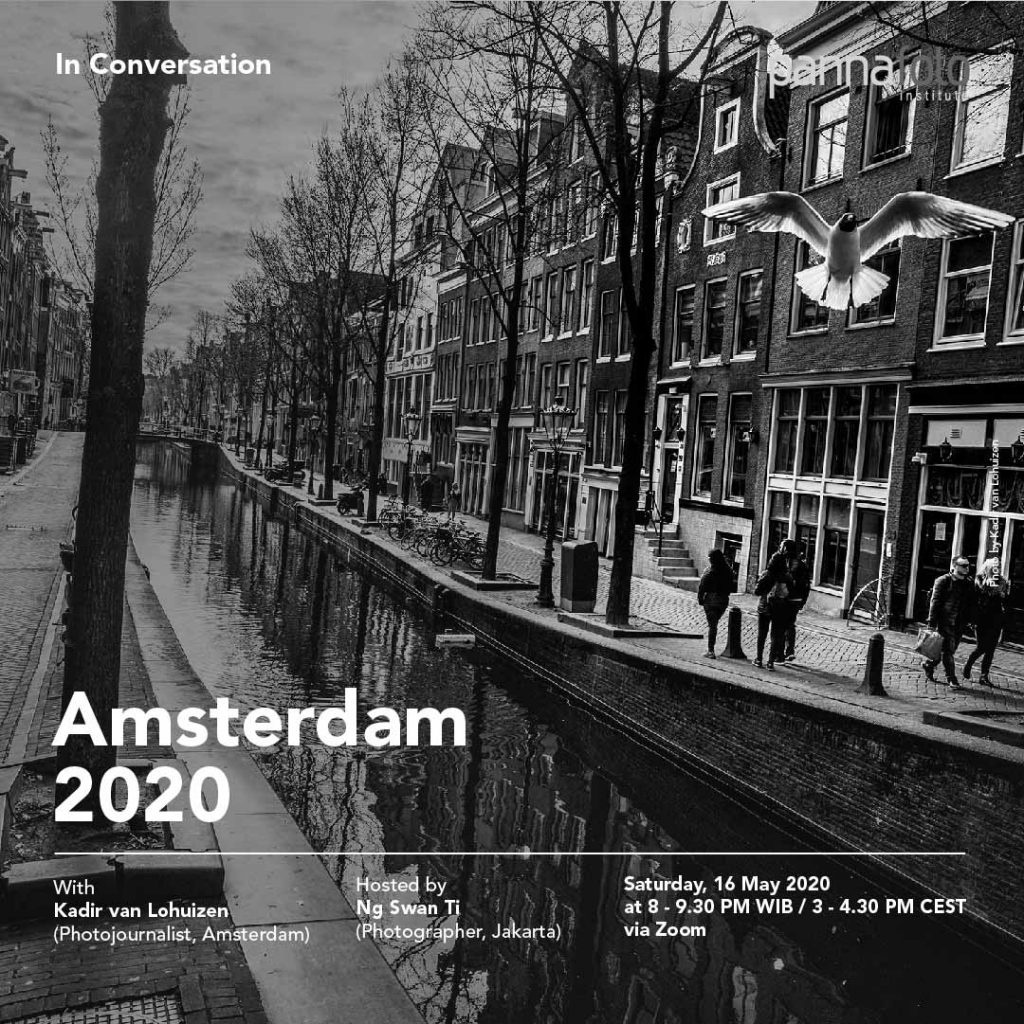 In Conversation
Amsterdam 2020
with Kadir van Lohuizen (Photojournalist, Amsterdam)
hosted by Ng Swan Ti (Photographer, Jakarta)
Saturday, 16 May 2020
at 8 – 9.30 PM WIB (Indonesian Western Standard Time) / 3 – 4.30 PM CEST
Join Kadir van Lohuizen (https://www.noorimages.com/kadir-van-lohuizen) as he will take us to stroll around the peaceful Amsterdam during the Covid-19 pandemic through his shot in his neighbourhood. He will also share an update on his latest project "Rising Tide".
The interactive conversation will be conducted on Zoom, free of charge with limited participants.
Register to
bit.ly/PannaWebinar05
Further information:
info@pannafoto.org
www.pannafoto.org
---
Kadir van Lohuizen. Born in the Netherlands in 1963, Kadir is widely known for his long-term projects on the seven rivers of the world, the rising of sea levels, the diamond industry and migration in the Americas. He has received numerous awards in photojournalism and published photo books, including "Diamond Matters, the diamond industry" and "Via PanAm". Kadir's environmental projects continue with "Wasteland", where he investigates in six megacities (Jakarta, Tokyo, Lagos, Amsterdam, São Paulo and New York) how they manage their waste. For this project he received 1st World Press Photo Prize in the Environment category. Based in Amsterdam, Kadir is a photography lecturer and co-founder of NOOR photo agency and foundation.
Ng Swan Ti lives and works in Jakarta, where she divides her time between personal projects and photography education at PannaFoto Institute. She pursues her career in photography upon participating in a workshop held by World Press Photo Foundation and "i see" (Imaging Center) in Jakarta in 2002, followed by a photography forum held by Asia-Europe Foundation and World Press Photo in Amsterdam in 2003.
Her works on self-religious exploration have been exhibited in several exhibitions and festivals, including Noorderlicht Photo Festival (2006), Jakarta Biennale (2015), DongGang International Photo Festival (2016) and Photography in Southeast Asia (II) at Lumenvisum, Hongkong (2018). Her first photo book Illusion was launched in 2014.