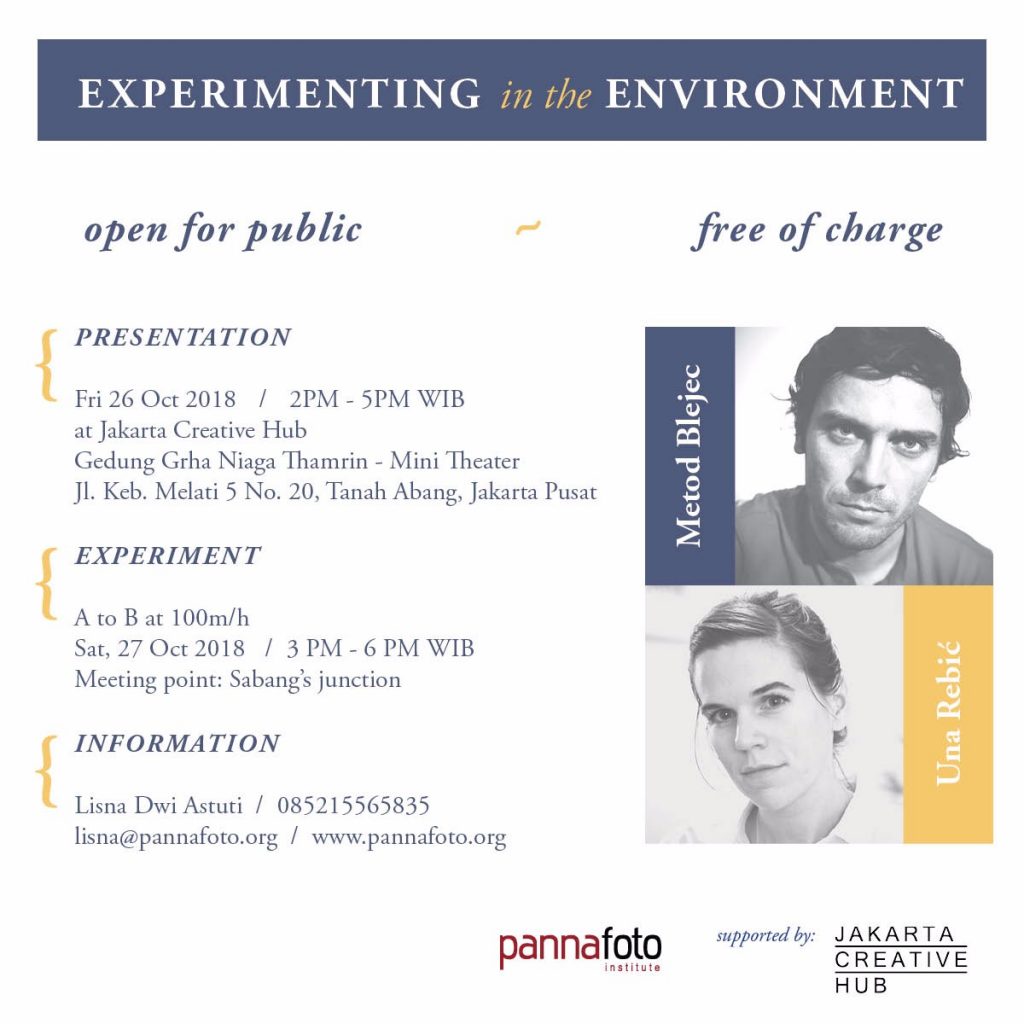 PannaFoto Institute presents
Presentation
Experimenting in the Environment
by Metod Blejec & Una Rebić
Friday, 26 October 2018
2 PM – 5 PM
at Jakarta Creative Hub
Gedung Grha Niaga Thamrin – Mini Theater
Jl. Kb. Melati 5 No. 20, Tanah Abang – Jakarta Pusat
Experimenting in the Environment presentation will linger around ways of engaging with the environment we inhabit through a kaleidoscope of sensory and perceptual approaches. In the presentation Metod and Una will use their recent project Journey Is Practice Is JourneyIs… where they explore alternative modes of journeys through practice. Formats used in the project challenge notions of space and time, mundanity, temporality, repetition, boredom and process itself as an example to draw conclusions. To further our practices references to photography will be drawn and discussed through the presentation.
Experiment
A to B at 100m/h
with Metod Blejec & Una Rebić
Saturday, 27 October 2018
3 PM – 6 PM
Meeting point: Sabang's junction
A to B at 100m/h is a slow-walking experiment and will take approximately 3h over a distance no further than 300m. The function of the experiment is to slow down and observe the environment we inhabit from an unusual time perspective while the world rushes by. While we move slowly either individually or as a group, this experiment is particularly useful for creatives who are visual practitioners—such as, visual artists, photographers, film-makers, etc. Participants are encouraged to bring cameras an/or other notation tools—such as, notebooks, sketchbooks, etc.—and prepare for weather local conditions.
Free
Open for public
RSVP and information
Lisna 0852-1556-5835
lisna@pannafoto.org
Profile
Una Rebić (b. 1986 in Rijeka) is a multidisciplinary art practitioner. In her multifaceted practice she is curious about exploring ways of communication within the social, physical, mental and spiritual realms. Media she works in ranges from photography, video, installation and intervention, to action, experimentation and process based work. Moving between individual and collaborative projects, Una works in Croatia and Slovenia, as well as internationally.
Metod Blejec (b. 1979 in Ljubljana) is a multidisciplinary hybrid-producer in art, design, photography and education working on experimental and engaging process-based projects. His work crosses boundaries in media, scale, modes and concepts both in personal and collaborative practices. He is based in Ljubljana, Slovenia and works internationally. For more information please visit metod.xyz.