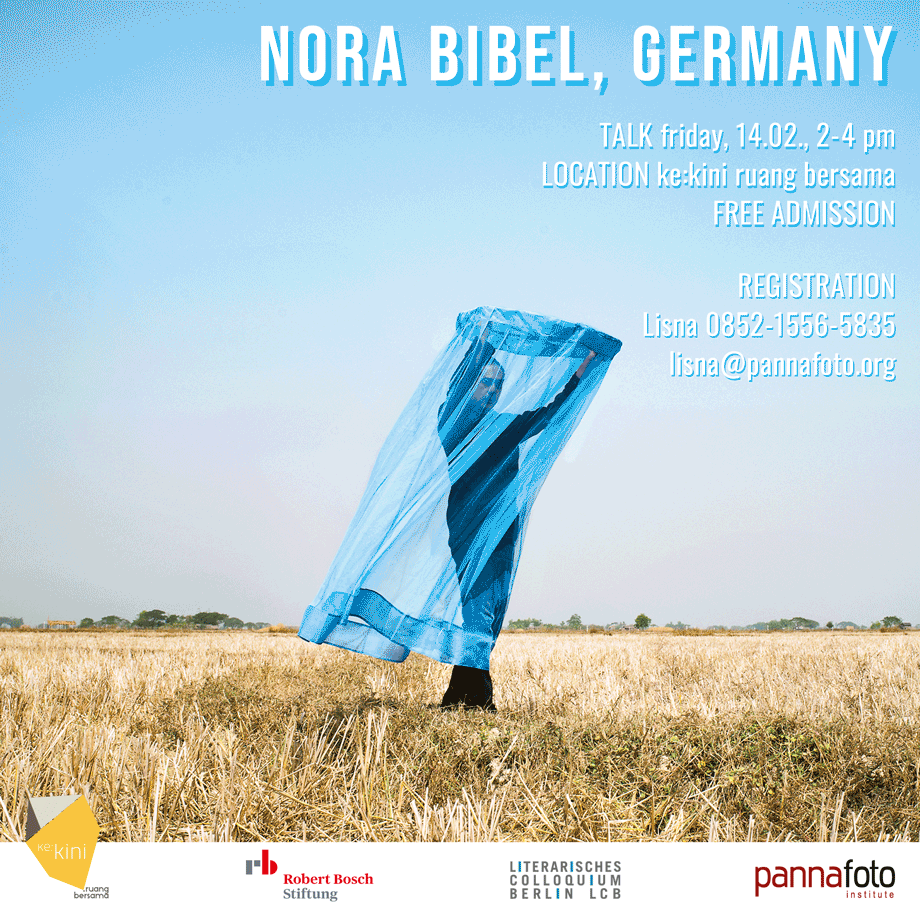 Please join us for a photo talk MAKING THE INVISIBLE VISIBLE by Prof. Nora Bibel (Berlin, Germany). The talk will take place on Friday, 14th February 2020 at 2-4 pm at ke:kini ruang bersama, Jalan Cikini Raya No. 43/45, Jakarta Pusat.
Free Admission
Registration
Lisna 0852-1556-5835
lisna@pannafoto.org
Nora Bibel's main focus is the interplay and impact of social change and personal fates mostly explored in her portrait and documentary photography. Although her pictures appear to be quiet, concentrated and precise images of everyday scenes, they are in fact staged moments quasi suspended in time, choreographed by the photographer in collaboration with her chosen subjects.
In her talk she will explain her ideas and processes behind her photographic work which has been exhibited internationally in group shows and solo exhibitions. She will talk about how to make the invisible visible through photographic concepts.
Nora Bibel by herself is in Jakarta because of starting a new project on the effects of migration through climate change on family and social structures using the example of Jakarta and selected rural areas of Indonesia. The project is funded by the program "crossing borders". Crossing Borders is a program of the Robert Bosch Stiftung, conducted in cooperation with Literarisches Colloquium Berlin, Germany.
**
Nora Bibel was born in Munich in 1971 and has lived in Berlin since 1999. She travels often for her work, worldwide. She graduated in Photography from the University of Bielefeld and works as freelance artist and applied photographer for international magazines and companies. She also teaches as a Professor visual communication and photography in Berlin at HMKW University of Applied Sciences for Media, Communication and Management.