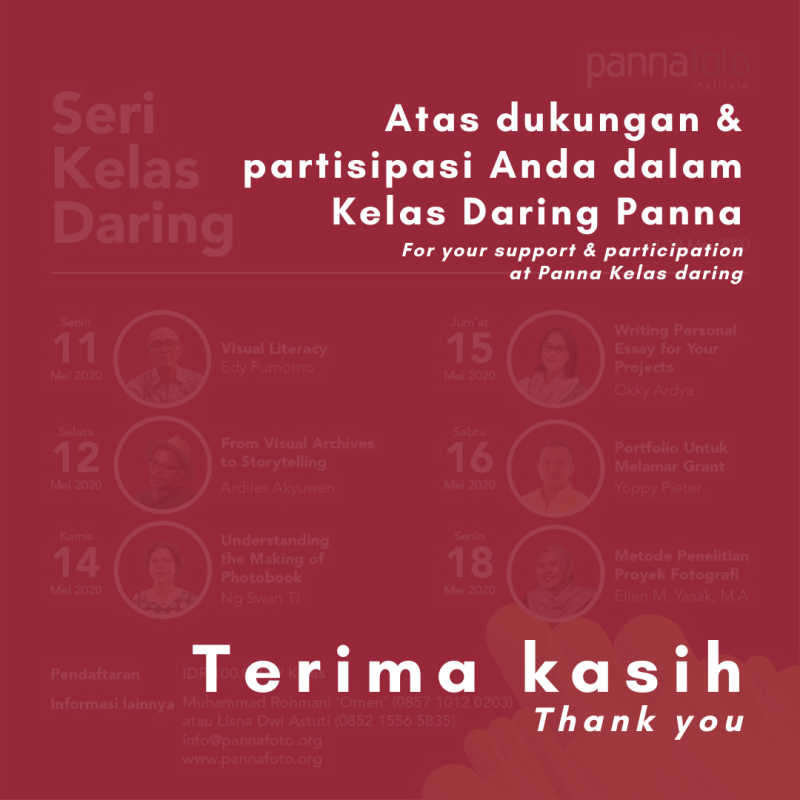 Sejak pemberlakuan physical distancing, banyak institusi dan organisasi berduyun-duyun memindahkan aktivitasnya ke platform digital. Begitu pula dengan kami di PannaFoto Institute, bulan Mei ini kami turut meramaikan dunia digital dengan menyelenggarakan Seri Panna Webinar, In Conversation dan Seri Kelas Daring.
Dalam edisi pertama Seri Kelas Daring, kami menyelenggarakan enam kelas sekaligus yang berlangsung pada 11-18 Mei 2020, dengan materi Visual Literacy oleh Edy Purnomo (Pendidik & Fotografer), From Visual Archives to Storytelling oleh Ardiles Akyuwen (Fotografer & Dosen Fotografi), Understanding the Making of Photobook oleh Ng Swan Ti (Fotografer), Writing Personal Essay for Your Projects oleh Okky Ardya (Freelance Editor & Fotografer Dokumenter), Portfolio Untuk Melamar Grant oleh Yoppy Pieter (Pendidik & Fotografer Independen), dan Metode Penelitian Proyek Fotografi oleh Ellen M. Yasak, MA. (Peneliti & Akademisi Ilmu Komunikasi).
Teknologi meruntuhkan batasan geografis, menjadi salah satu hal yang membuat kami berbahagia dari rangkaian Kelas Daring ini. Dengan memanfaatkan Zoom, kami dapat terhubung dengan kawan-kawan dari berbagai kota di Indonesia: Balikpapan, Banda Aceh, Bandung, Bekasi, Bogor, Depok, Jakarta, Lhokseumawe, Malang, Padang, Palu, Semarang, Sidoarjo, Solo, Surabaya, Tangerang, Tidore, serta Yogyakarta. Apabila dibandingkan dengan kondisi normal, dimana kelas-kelas berlangsung secara tatap muka dan pertemuan fisik, hal ini menjadi sesuatu yang langka.
Seri Kelas Daring akan berlanjut di bulan Juni 2020. Ikuti media sosial kami untuk mendapatkan informasi terbaru program-program kami.