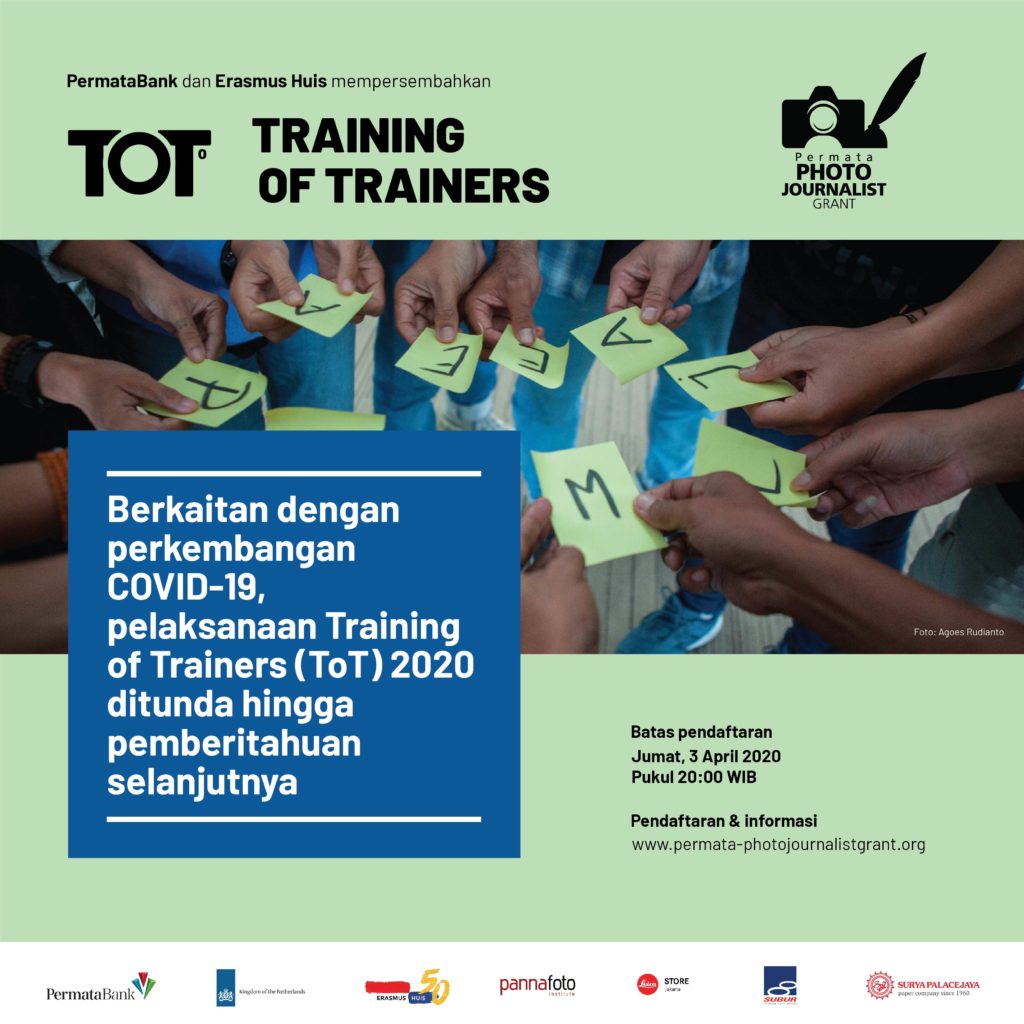 Mempertimbangkan perkembangan COVID-19 saat ini, dan mengikuti aturan pemerintah Indonesia terkait wabah COVID-19 untuk menunda kegiatan-kegiatan yang melibatkan banyak orang, pelaksanaan Training of Trainers (ToT) 2020 ditunda hingga pemberitahuan selanjutnya.
Meski demikian, pendaftaran Training of Trainers tetap dibuka hingga 3 April 2020, pukul 20:00 WIB. Proses seleksi akan dilaksanakan segera setelah keadaan membaik.
Ikuti perkembangan program ini melalui www.permata-photojournalistgrant.org dan sosial media kami. Informasi dan pertanyaan lebih lanjut, silakan menghubungi Lisna Dwi Astuti di nomor 0852 1556 5835 atau email lisna@pannafoto.org.
Terima kasih atas dukungan, pengertian, dan partisipasi rekan-rekan dalam rangkaian program Permata Photojournalist Grant 2019 – Erasmus Huis Fellowship to Amsterdam 2020. Semoga sehat selalu!
=====
Training of Trainers (ToT), workshop intensif selama 3 (tiga) hari yang didedikasikan untuk mengembangkan kemampuan mengajar di bidang fotografi. Dengan mentor dari PannaFoto Institute yang telah mendapat pelatihan ToT dari World Press Photo. Program ini telah enam kali terselenggara sejak 2013 dan diikuti oleh 60 orang pengajar dari berbagai kota di Indonesia. Di tahun 2020 ini, PermataBank dan Erasmus Huis bersama PannaFoto Institute, Leica Store Jakarta, dan para mitra kembali menyelenggarakan Training of Trainers.