In this photo presentation, Jenny will share her working experiences as a photo editor with different approaches in visual storytelling. Join us and get to know more on photojournalism through the eyes and perspective of a photo editor.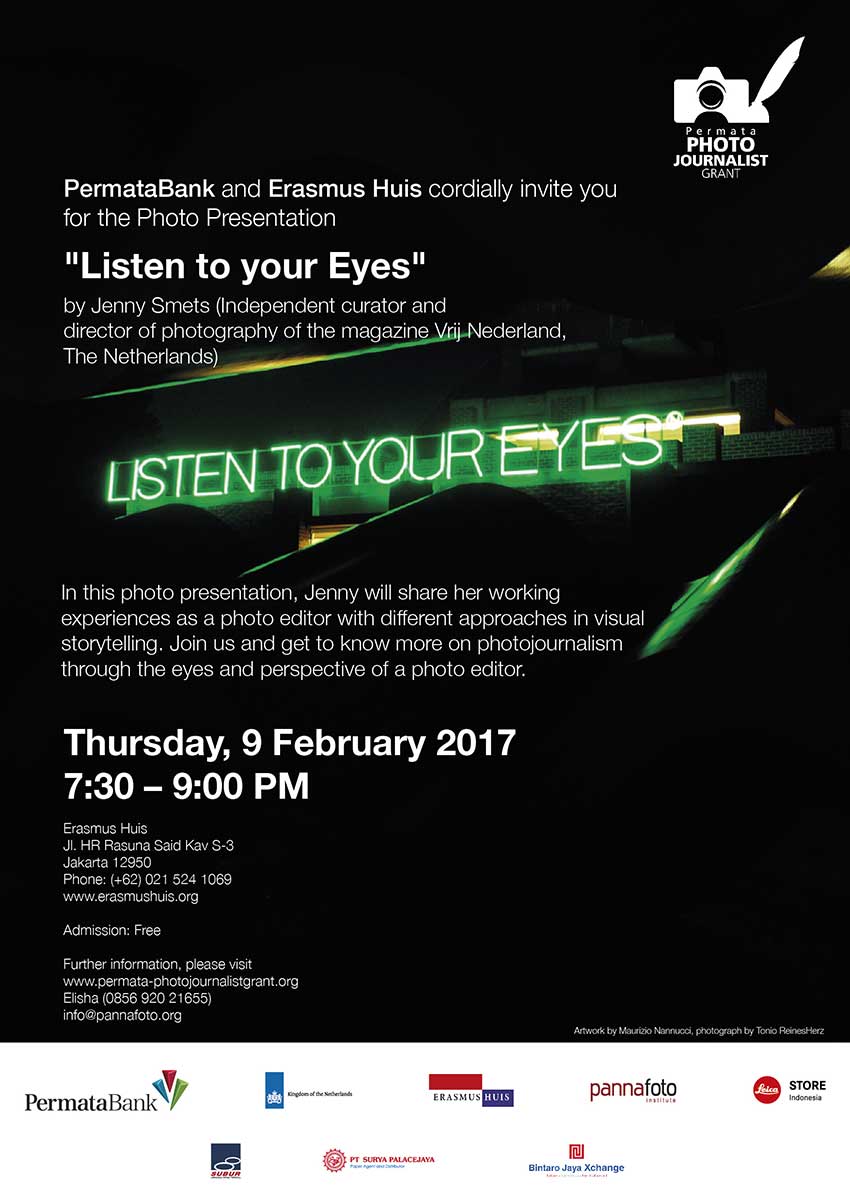 Thursday, 9 February 2017
7:30 – 9:00 PM
Erasmus Huis
Jl. HR Rasuna Said Kav S-3
Jakarta 12950
Phone: (+62) 021 524 1069
www.erasmushuis.org
Admission: Free
Further information, please visit
www.permata-photojournalistgrant.org
Elisha (0856 920 21655)
info@pannafoto.org
**
BIO
Jenny Smets is an independent curator of photography exhibitions and director of photography of the magazine Vrij Nederland, The Netherlands. This magazine is known for the high standard of photography and publishes photo essays of renowned national and international  photographers.
She was the curator for the exhibition on Privacy (2015) for FOTODOK, place for documentary photography in Utrecht (NL). She also co-curated the exhibitions There is Something about my Family (spring 2016) and the recent show on religion: Believe (September 2016).
She studied history of modern and contemporary art at UVA University in Amsterdam, the Netherlands and specialized during her studies in the history of photography.
Her interest in digital storytelling made Jenny one of the partners of PhotoStories: an international conference on digital storytelling for photographers and filmmakers.
Being part of the core training team of World Press Photo, she trains photojournalists in different parts of the world. She is member of the Board of Trustees of World Press Photo foundation, board member of DutchDoc (Dutch documentary photography foundation) and adviser for the AFK, Amsterdam Art Foundation.