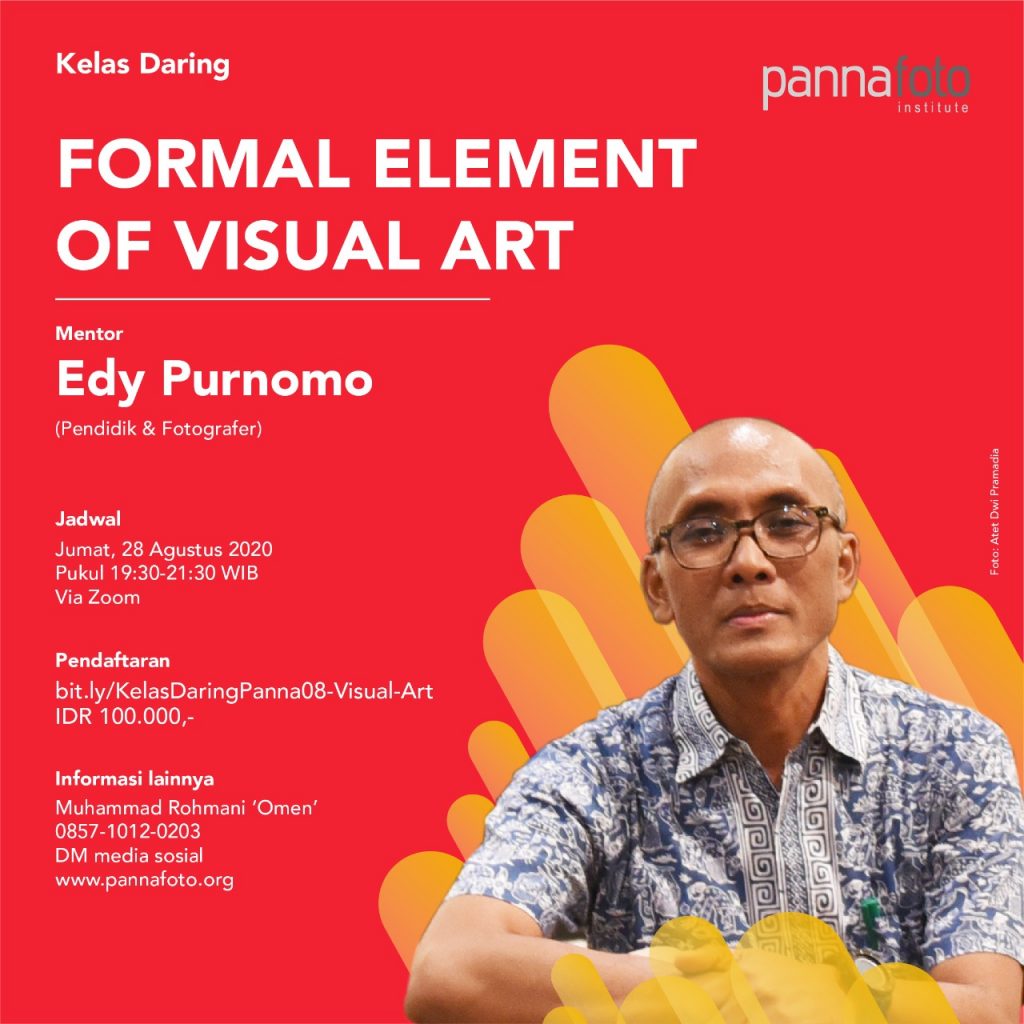 KELAS DARING
FORMAL ELEMENT OF VISUAL ART
Mentor
Edy Purnomo
(Pendidik & Fotografer)
Kelas daring interaktif dirancang bagi mereka yang ingin mengetahui dan mempelajari cara membaca dan menganalisis foto sehingga secara sadar dapat mengerti nilai estetis dan memahami pesan sebuah foto. Peserta diajak untuk belajar melalui pengalaman dan pengamatan sehingga mampu memaknai dan mengapresiasi foto setelah mendapatkan pengetahuan ini. Peserta dianjurkan untuk sudah mengikuti Kelas Daring Visual Literacy sebelumnya.
Materi yang akan disampaikan
Mengenalkan dan memahami "formal element of visual art".
Bagaimana mengaplikasikan pemahaman "formal element of visual art" dengan pengalaman melihat visual.
Studi kasus dan interaksi pengajar dan peserta.
Jadwal
Jumat, 28 Agustus 2020
Pukul 19:30-21:30 WIB
Via Zoom
Pendaftaran
bit.ly/KelasDaringPanna08-Visual-Art
IDR 100.000,-
Cara mendaftar
Mendaftar dengan cara melengkapi formulir yang terdapat pada laman bit.ly/KelasDaringPanna08-Visual-Art.
Melakukan pembayaran kelas melalui Bank Mandiri, nomor rekening 166-000-24-000-91 atas nama Yayasan Panna.
Mengunggah bukti pembayaran pada kolom yang tersedia dalam formulir pendaftaran.
Kami akan mengirimkan tautan undangan Zoom melalui email dalam waktu 2×24 jam. Mohon untuk memeriksa juga folder spam/junk. Apabila melewati batas waktu tersebut dan belum menerima email, silakan hubungi Omen.
Informasi lainnya
Muhammad Rohmani 'Omen'
0857-1012-0203
DM media sosial
info@pannafoto.org
www.pannafoto.org
---
Profil Pengajar
Edy Purnomo
aktif mengadakan berbagai workshop untuk membina generasi baru fotografer Indonesia dan berpartisipasi dalam program pelatihan-untuk-pelatih World Press Photo di Amsterdam. Berawal sebagai stringer di Agence France-Presse dan Getty Images News Service, kini karyanya dimuat di National Geographic Indonesia, TIME Magazine, Newsweek, The New York Times, serta berbagai publikasi yang terkait dengan PBB. Pada Oktober 2012, Edy meluncurkan buku PASSING yang memuat sejumlah karya terbaiknya selama empat belas tahun berkarier sebagai fotografer. Di bulan Mei 2018 meluncurkan buku keduanya Wildtopia, yang menceritakan realitas absurd kebun binatang hari ini.